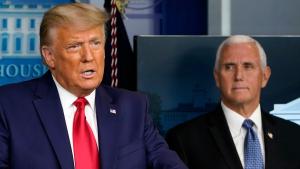 Last month–in the court case in which President Donald Trump's attorney John Eastman refused to turn over 101 emails to the special House committee investigating the January 6th riot and events leading up to it–federal Judge David Carter ruled that the emails had to be released to the committee. Eastman, who had claimed executive privilege but was denied, had been a prime proponent who had engineered the coup to stop Congress' certification of the Electoral College process that day, thus a serious obstruction of an act of Congress.
Judge Carter then said in expressing his ruling against Eastman and his emails that President Trump "more likely than not" had committed a felony in trying to obstruct Vice President Mike Pence in performing the formality of approving the election results, in which Joe Biden had won the presidential election. That was the plan that Eastman had cooked up, and Trump ate the whole thing.
Now there is a second federal judge who has spoken up even stronger about it. Today, Republican-appointed U.S. federal Judge Reggie Walton said in the trial of Capitol rioter Dustin Thompson, "we have charlatans, like the former president, in my view, who don't care about democracy and only care about power."
Thompson–who stole a bottle of liquor and a coat rack from the Capitol during the riot on January 6th, 2021–had claimed in his defense that President Trump had manipulated his mind by calling supporters to attack the Capitol. Thompson therefore asserted that in doing so, he was "following presidential orders." He explained, "If the president's giving you almost an order to do something, I felt obligated to do it." (Right after that riot, I posted on my blog that some of those rioters would be charged in court and make this defense, which is in my book, Bible Predicts Trump Fall.)
The jury denied this defense by Thompson and charged him guilty of six charges of law breaking at the Capitol that day. Forbes online reported today, "According to the Justice Department, at least 775 people have been arrested for taking part in the January 6 rioting, and just over 200 have pleaded guilty, meaning more than 500 trials related to January 6 could take place in the future."
Thus, two U.S. District Court judges have now expressed in a court ruling on another matter that President Trump was guilty, or likely guilty, on and before January 6th of trying to overturn our free and fair presidential election which he lost. Thus, the future increasingly bodes ill for the former president regarding just this one issue–of his legal culpability on January 6th.
The House committee has announced that it is nearing completion of its investigation and its report and that its televised hearings about the supposed insurrection, for which the House had earlier impeached Mr. Trump, will be held during May and June. There will be many witnesses, and it surely will have similarity to the televised Watergate hearings in 1973.
Way back on July 21, 2018–thus not even midway into Donald Trump's one-year term as president–I blogged (which is in my Trump book), "I think Trumpgate will make Watergate look like a Sunday school picnic."