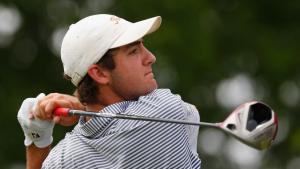 Scottie Scheffler looked like he was in total control all the way today at the Masters in Augusta, Georgia, until the very end, except that then it didn't matter–almost.
Scheffler shot a one-under par 71 today to win the Masters by three strokes over Rory McIlroy, who charged from way back to post by far the best score of the day, an eight-under par 64. (McIlroy needs to win the Masters to become one of only six golf pros who have ever won all four majors.) And Shane Lowry and Cameron Smith finished tied for third, at five strokes back. Smith, who was paired with the eventual champ, had been the one challenging Scheffler all day until they reached the treacherous little par-three 12th hole, the third member of Amen Corner.
The 150-yard 12th hole at Augusta National Golf Course has perhaps the longest and skinniest green I've ever played. The safe play is to the left, hitting for the left side of the green. On Masters Sunday, the hole is always cut far right, which brings Rae's Creek into play to the maximum. As I blogged yesterday, Tiger Woods made a ten there in the last Masters.
Smith hit first. It looked like he got suckered by going for the pin and dumping his ball into the water. It looked like Scottie then aimed about 100 feet left, at the very left edge of the green in order to try to stay out of the water. He then pitched up and make a good putt for par 3. Smith walked away carding a triple bogey 6, dashing his hopes for a green jacket like many others have done before him.
Scheffler eventually came to the par-four 18th hole today with a five stroke lead, just as he had started the day. Wow, what a dream! A five stroke lead in the Masters with only one hole to go. Seems like anybody could get that done, especially what seems like the cool, clam, and collected Mr. Scheffler.
Scottie drove barely in the right rough of that very narrow 18th fairway. He then hit his uphill iron shot clear of the tree branches and sailing right at the pin, which is always tucked in the front left side of the green on Masters Sunday. Scottie's ball settled on the back of the green, leaving him a fairly easy two putt from about forty feet going downhill. But the lay of the land around the hole is very flat, leaving no reason to panic. The Texan then gave it a good lag, just past the cup three feet. That would have made another Texan grad of the University of Texas and two-time Masters champ–who is surely the best lag putter to every win here–Ben Crenshaw.
All day long, in fact all tournament long, Scottie Scheffler–the hottest stick on the PGA Tour currently-having won three PGA Tour tournaments in the past 57 days, and these his first tournament wins on the big stage–was sitting pretty. He just needed to nestle his little white ball down into the bottom of that cup in order to then prance into the nearby Butler's Cabin for the great Masters tradition of the winner putting on the green Masters coat. (Scheffler won his first PGA Tour tournament in February, the Waste Management Phoenix Open, near where I live.)
And then, Mr. Scottie Scheffler did the absolutely UNTHINKABLE! He missed that easy, flat, straight, three-foot putt, leaving him an eighteen inch putt to make for a three-putt. I thought the guy couldn't think of anything else but just wanting to get into the clubhouse, sign his card, and go put on that green jacket. So I yelled at the TV, "SCOTTIE, YOU'RE NOT DONE YET, MAN. YOU GOTTA GET THAT BALL IN THE HOLE BEFORE YOU CAN QUIT!"
Who would have believed it unless they had seen what happened next? This six foot three inches tall young man, who had appeared so calm all week, never hardly making a mistake, then took his time and his normal stance over that eighteen inch putt and MISSED IT TOO! Not only that, but his ball didn't even touch the lip of the cup! It was so astonishing. The poor guy then made his twelve incher for a four-putt to become the Masters champion.
He walked away with a sheepish grin on his face, yet full of joy. Friends and family greeted him for several minutes before he arrived at the scorer's table, which is the final, necessary event of the day when playing pro golf.
People love Scottie Scheffler. A lot of people love him more after that finishing fiasco at the Masters today. Nothing like a pro golfer making a fool out of himself on television to make the average hack feel good. And he did it as  the #1 pro golfer in World Rankings on the greatest stage in golf.
Jim Nantz has been the main television broadcaster of the Masters Tournament in what seems like forever. And I've known Jim forever because we both come from the same college, the University of Houston.
When Scottie Scheffler and his playing partner, Australia's Cameron Smith, came to the 18th tee today, Nance announced that the twenty-five year old Scheffler is a "man of faith" who attends the PGA Tour Bible Study. (Yours Truly co-founded it.) I didn't know that about him.
Scheffler said in a 2018 interview with Sports Spectrum Podcast, "having the God of the universe on your side just makes things a lot easier to deal with. And the principles of the Bible are something that, when you use them, you can see it manifest in your life." Sports Spectrum published an article today entitled, "Scottie Scheffler wins Masters, says 'reason I play golf is I'm trying to glorify God.'"
Scheffler's current caddie, Ted Scott, seems to be a significant part of his man's victories. They met about a year ago at the Bible Study. Scott had been Bubba Watson's caddie for ten years, which Bubba won the Masters in 2012 and 2014. Bubba and Ted had a parting of the ways last year. Bubba is also a regular member of the PGA Tour Bible Study.
Scheffler then asked Scott last November if he would be his caddie, and Scott accepted. Online Sports Spectrum, with the byline "Where Sports and Faith Connect," reported two days ago that Scheffler says he asked Scott to caddie for him because he wanted to work with a "Christian caddie." Scheffler said this week of his new caddie, "he keeps things loose. We have a lot a fun together."
Scottie sure needed that today. Sports Spectrum reports that in the press conference this evening, after his victory, Scottie told all those journalists, "I cried like a baby this morning. I was so stressed out. I didn't know what to do. I was sitting there telling Meredith [his wife], 'I don't think I'm ready for this. I'm not ready, I don't feel like I'm ready for this kind of stuff,' and I just felt overwhelmed.
"She told me, 'Who are you to say that you are not ready? Who am I to say that I know what's best for my life?' And so what we talked about is that God is in control and that the Lord is leading me; and if today is my time, it's my time. And if I shot 82 today, you know, somehow I was going to use it for His glory."