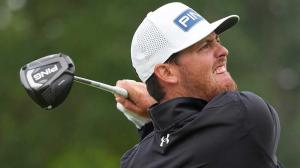 Mito Pereira–a PGA Tour rookie from Chile who went to college at Texas Tech in Lubbock, Texas–birdied the last hole today for a one-under par 69 and a 54-hole total of nine-under par 201 to take a three-stroke lead in the PGA Championship at Southern Hills, Tulsa, Oklahoma, with one round to go.
Until Saturday, the weather in Tulsa had been warm and nice. But the cold wind blew in Saturday to dampen tournament spirits, especially those of Tiger Woods. After shooting a very respectable 69 Friday to barely make the 36-hole cut, and thus continue play this weekend, the chilly weather must have made life difficult for Tiger since he is struggling to overcome his serious injuries from a near-fatal car accident 15 months ago. He shot 79 Saturday and hours later withdrew.
Superstars Justin Thomas and Rory McIlroy, who had been in the hunt, faltered badly Saturday to virtually take themselves out of winning the tournament.
Matthew Fitzpatrick and Will Zalatoris are three strokes back of Pereira at six-under par.
Pereira had taken a four-stroke lead early during the day. Then he bogeyed four out of five holes mid-way in his round to come back to his pursuers. During that stretch, Pereira was having some trouble hitting pretty good iron shots to the greens, but the ball had such ferocious backspin that it would backup off the front of the green and perhaps wind up in a sand bunker.
Pereira's iron shots do that because he is what you call "a digger." That means that when he strikes the ball with an iron club, he descends so much with the arc of his club head swing path that he takes an abnormally large divot. He does that because he "squats" a lot in his downswing. That means he increases the angle formed by his spine and torso, sometimes called "bending," on his downswing, resulting in a noticeable lowering of his head. He's a young guy now, but that type of action is bad back waiting to happen when he gets older.