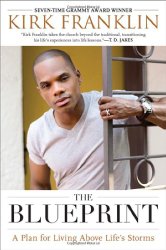 The Blueprint
A Plan for Living Above Life's Storms
Copyright: April 2011
Publisher: Gotham
Summary:
Seven-time Grammy award-winning artist Kirk Franklin offers powerful, streetwise advice for building a fulfilling life in the face of any adversity. 
Kirk Franklin's life was hardly built on a firm foundation. Abandoned by both his father and mother, Kirk was constantly told he was an unwanted child. He struggled mightily yet managed to triumph, dedicating his life to helping others find hope during hardship. With The Blueprint, he provides an inspiring blend of God and grit to deliver real-world words of wisdom on provocative topics including:
•The true definition of manhood
•Deadbeat dads, divorce, and despair in family life
•Why faith that only takes place in a church is dead
In the spirit of Hill Harper's Letters to a Young Brother and T. D. Jakes's He-Motions, The Blueprint delivers an honest new direction, taking faith out of the pews and into the real lives of all who struggle.