In the book of Isaiah, we see a glimpse into God's heart for the broken. In Isaiah 66:2 (NIV) God says, "This is the one I esteem: he who is humble and contrite in spirit, and trembles at my word."
But we have a problem.
By nature, we all are the opposite of the one whom He esteems. We are all unbroken. We are as solid as the hardest substance you can find—unbending, self-centered, self-ambitious and never wanting to give in. We are part of a world in which we are told, either directly or indirectly, "Fight for your rights! Be your own person! What matters is success, ability, personality, position, being important and first class in everything." This is ingrained in us.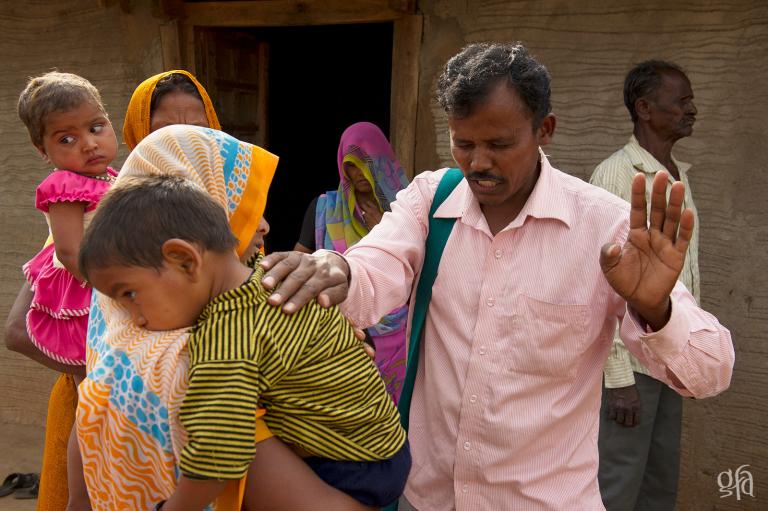 I remember some years ago a man applied to join GFA's home staff. He was a computer expert, a brilliant man whose ability and talent would help the ministry in a significant way. As he was getting ready to soon join us, he called our current office manager to ask a question that was very important to him. He explained how he was leaving an incredibly important position at his current job and went on to say, "My friends are asking me what my new position is going to be. I was wondering if you could tell me so that I can put it on my new business cards to let everyone know."
We were taken aback by his request. Not that business cards and titles are a bad thing—they are not. It was the seeking of great status and an honored title that jolted us.
I have never forgotten that day. As the office manager and I spoke, we both understood the answer we must give in reply. I said, "I don't think we can offer him anything. If he is willing to come and clean the toilets, be a nobody, he may come. But since he already is demanding a position and looking for a great title, it would be best if he stays where he is. Please tell him not to come."
This situation reminds me of something A.W. Tozer said: "It is doubtful whether God can bless a man greatly until He has hurt him deeply."1
You see, in the work the Lord does in our lives, salvation is just the beginning; the majority of the work remains—the work of the cross. Through the cross, God is continually trying to break us of our own hard self. In the measure in which we can find brokenness, in the same measure we shall experience the resurrection life and the rivers of living water that flow without hindrance.
How can we tell if we are broken or unbroken? When we have embraced the work of the cross, our lives will reflect the beauty of our Savior. But when we are still unbroken, our lives look very different.
I want to present some questions, which hopefully will shed some light on your heart so you may see what condition it is in.
Do you focus on the failures of others? Are you quick to blame people when things have gone wrong? Do you become defensive when someone criticizes you, the work you did or the things you've said? When we are unbroken, we tend to have a self-protective spirit, regarding our own lives as precious—are you like this, protective of your time, your rights and your reputation?
Do you compare yourself to others and feel deserving of honor? Are you driven to be recognized and strive to do things—even spiritually—to find appreciation from others? Are you easily wounded when others are promoted and you are overlooked?
Because of unbrokenness, we can find it very difficult to share our real spiritual need with others. Do you make certain that no one finds out about your sin?
Unbrokenness can often make us blind to our own true heart condition, thinking we have no need of repentance. Do you have a hard time saying, "I was wrong. Would you forgive me?"
Some time ago I received a telephone call from one of our leaders in India. A highly intelligent, well-educated man, whom I know quite well, was thinking about coming to work with us. The leadership wanted to know what I thought about it.
As I spoke with them over the phone I said, "First, he would be one of the greatest assets we can have as far as his ability is concerned. You couldn't find a more gifted individual; he has incredible abilities. As a communicator the man is superb."
"But second," I said, "it would be very dangerous for our movement if he came. The man is not broken. He is so self-sufficient, so sure of himself, so strong. You can be sure he will fight and win every argument with his determination to always be right. Even if he gives us money to let him work with us, I wouldn't have him. I would not have him because what he produces would be hard, unbroken people. We want broken people. God is looking for humble people, not able people. He resides with the lowly of heart."
In fact, this is exactly what Isaiah 57:15 says: "For thus says the High and Lofty One who inhabits eternity, whose name is Holy: 'I dwell in the high and holy place, with him who has a contrite and humble spirit, to revive the spirit of the humble, and to revive the heart of the contrite ones.' "
Take a moment and ask the Lord to show you areas of your life that remain unbroken. Are you willing to humble yourself and surrender these areas so that He may do His work in your heart?
1 A.W. Tozer, The Root of the Righteous (Christian Publications, Inc., 1955), p. 137.
Excerpted from The Beauty of Christ through Brokenness by KP Yohannan. Copyright © 2004 by KP Yohannan. (Carrollton, TX: GFA Books).
Click here to Read the rest of The Beauty of Christ through Brokenness.
---
Dr. KP Yohannan, founder and director of the nonprofit organization Gospel for Asia, has written more than 200 books, including Revolution in World Missions, an international bestseller with more than 4 million copies in print. He and his wife, Gisela, have two grown children, Daniel and Sarah, who both serve the Lord with their families.
Gospel for Asia is a nonprofit organization serving the "least of these" in Asia since its beginning in 1979, often in places where no one else is serving. Gospel for Asia supports national workers who are serving as the hands and feet of Christ by ministering to people's needs so they can understand the love of God for them for the first time. Gospel for Asia is engaged in dozens of projects, such as caring for poor children, slum dwellers and widows and orphans; providing clean water by funding wells; supporting medical missions; and meeting the needs of those in leprosy colonies. Through Gospel for Asia's Bridge of Hope Program, tens of thousands of children are being rescued from the generational curses of poverty and hopelessness.
=====
Read how God is working behind the scenes in the lives of women who never had an opportunity before to read and write.
Read more articles on Patheos by Dr. KP Yohannan Metropolitan, or on kpyohannan.org.
Learn more about Dr. KP Yohannan: Twitter | Radio | OnePlace | About | Book