Gospel for Asia (GFA) Founder & Director, Metropolitan of the Believers Eastern Church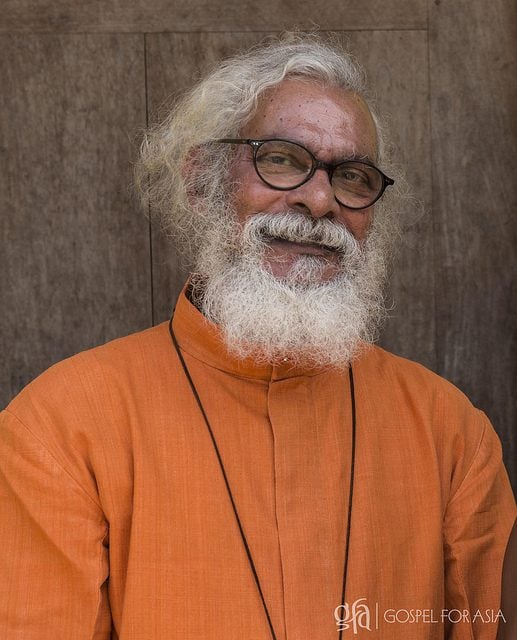 KP Yohannan Metropolitan has been crisscrossing the globe for the past 40 years, challenging the Body of Christ to discipleship. His call to a radical lifestyle—with an all-out commitment to Jesus—has left its impact on nearly every continent. To the Church caught up by the tidal waves of compromise and self-preservation, KP Yohannan's life message is a fresh word to this generation and yet as timeless as the scriptural mandate itself.
Yohannan is the founder and director of Gospel for Asia (GFA World), a Christian mission organization deeply committed to seeing communities transformed through the love of Christ demonstrated in word and deed. He is also the metropolitan bishop of Believers Eastern Church, an indigenous church in South Asia. In August 2018, Believers Eastern Church announced that bishops and leaders in the church would take up "ecclesiastical" names in church duties, and Yohannan henceforth would be known as Moran Mor Athanasius Yohan Metropolitan with respect to church duties.
Yohannan was born in South India in 1950 and is the youngest of six sons. His mother dedicated each of her children to the Lord and longed to see one of them commit their lives to ministry. She secretly fasted each Friday for three and a half years, praying, "Oh God, let just one of my boys preach!" Even as she prayed, her children were growing up, seeming destined for secular work. Finally, only the youngest, little "Yohannachan," was left. Seeing how shy and insecure he was, his mother thought there was little chance that he would preach.
However, after Yohannan finished his schooling, he heard stories about North India from a visiting mission team, and his heart was gripped. His mother's faithful prayers were answered as he immediately decided to join the mission movement and go to faraway North India to help bring the Good News to the multitude of villages that had never heard of Christ. While preparing to go with this radical mission team from Europe, the timid 16-year-old was challenged by a call to radical discipleship from missionary statesman George Verwer. That night, Yohannan couldn't sleep. What if God asked him to preach publicly in the streets? What if he was stoned and beaten?
Suddenly, God's presence filled the room, and he knew he was not alone. "Lord God," he prayed in surrender, "I'll give myself to speak for You—but help me to know that You're with me."
The next morning, he awoke with a supernatural love and burden for the people around him. The Lord gave him the courage to speak to the crowds he saw that day, and he continued to preach for the next seven years in North India. As a field evangelist and regional coordinator, he was responsible for the members of his teams and the planning of each day. His future wife, Gisela, was also serving with the same mission movement at the same time, and Yohannan felt through their brief encounters that he had found someone who shared his same vision and calling.
In 1971, Yohannan was invited to spend a month in Singapore at a new institute that had been started by John Haggai. Here, he was challenged by Haggai to do something significant with his life for God's glory. His time at the institute produced a restlessness that eventually led him to leave India to search abroad for God's ultimate will in his life. In 1974, he came to the United States, where he received his theological training at Criswell College. After his first term in 1974, he and Gisela were married in Germany, Gisela's birth country. They have two children, Daniel and Sarah.
As a theology student, Yohannan was ordained and began pastoring a local church in Dallas, where he served for four years. While God blessed his pastoral ministry, Yohannan couldn't forget the burden God had given him for those who had never once heard the name of Jesus.
Remember to Pray for the Millions in Asia, Says KP Yohannan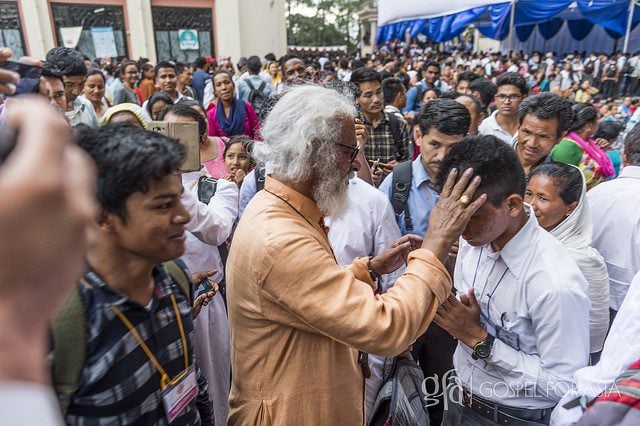 As the Lord reminded Yohannan of the millions in Asia still waiting to learn of His love for them, he resigned his pastorate, and he and Gisela began taking steps to start an organization to support national missionaries, which eventually became known as GFA. They began meeting together each Tuesday night with a small, faithful group of believers to pray over world maps. The Lord soon guided them to start a program through which people could regularly support the work of sponsor national missionaries by laying aside one dollar a day. As the Lord opened doors to share this opportunity with churches and individuals, the ministry began to grow.
Today, GFA comes alongside thousands of national workers and supports them through prayer and assistance as they bring hope to the neediest in South Asia. GFA is engaged in dozens of projects, such as caring for poor children, slum dwellers and widows and orphans; providing clean water by funding wells; supporting medical missions; and meeting the needs of those in leprosy colonies. Through GFA's Bridge of Hope Program, tens of thousands of children are being rescued from the generational curses of poverty and hopelessness. In honor of Yohannan's decades of demonstrating the heart of a father to the fatherless, the members of the Christian Men's Network's Global Fatherhood Initiative awarded him the Reggie White Fatherhood Award in 2016. In 2003, he was awarded Alumnus of the Year from Criswell College for his influence in the work of God.
Initiatives on Covid-19
Fervent and effectual prayer — along with sincere fasting — can change the course of human events (James 5:16-18).
Amid the horrors of Covid-19 around the world, KP Yohannan calls for a tidal wave of compassion, prayer, and humanitarian aid to help alleviate pain and breathe hope into a world in distress. He has led GFA in partnership with local government and churches to conduct relief programs for families. Even the youth join in the effort to distribute groceries to slum areas.
A Ministry of Discipleship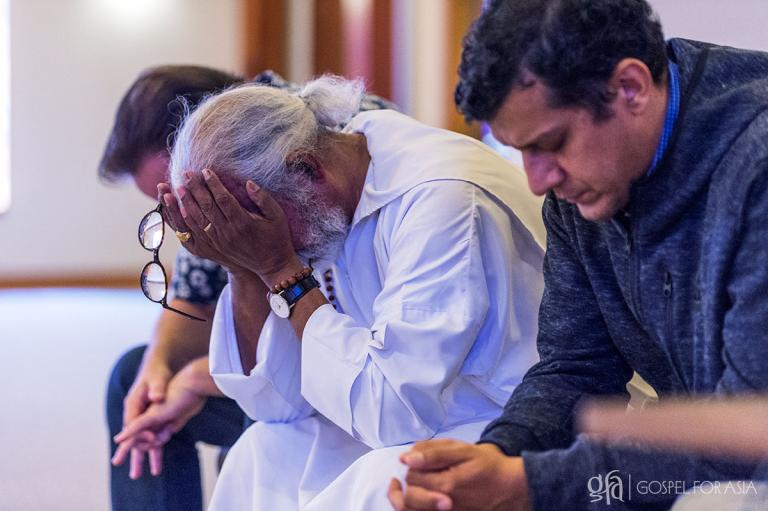 One of Yohannan's deep desires is to see a new generation catch sight of the Lord's burden for the hopeless in their generation and to give themselves, no-holds-barred, to His work. GFA's School of Discipleship, a one-year program for young adults, is helping fulfill this dream. Through this life-changing year at GFA's headquarters in East Texas, dozens of young people have deepened their relationship with Christ and grown in their desire to follow in His footsteps. Many of them are now serving the Lord full time in different capacities across the globe.
Ministering hope and practical help to the people of South Asia, Yohannan's radio program, Spiritual Journey, reaches more than 1 billion people in 110 languages. His Road to Reality radio program airs weekly on more than 200 radio stations in the United States, Canada, Europe, Australia and New Zealand. Additionally, viewers in 100 nations can watch him daily on AYTV. He served on the executive committee of World by Radio from 2004–2012 and as a board member with the National Religious Broadcasters Association (NRB) from 2013–2015. In recognition of his service, NRB presented Yohannan with its Individual Achievement in International Broadcasting award in 2003.
Special Reports
Gospel for Asia has published over 35 intensive Special Reports on a wide range of topics surrounding issues that affect the poor and underprivileged. In addition, it has an extensive library on Poverty FAQs and Clean Water FAQs.
Partnership Opportunities
Some plant, others water, but God gives the increase. Discover some of the many ways you can touch the lives of precious men, women and children in Asia using your God-given talents. Get involved right where you are!
GFA School of Discipleship
Books
KP Yohannan is a prolific writer with more than 200 books published in Asia and 11 in the United States. With more than 3.9 million copies in print, Yohannan's landmark book, Revolution in World Missions, is an international bestseller that has literally changed the course of mission history in our generation. Yohannan's other titles include The Road to Reality; Come, Let's Reach the World; Living in the Light of Eternity; Reflecting His Image; Against the Wind; Touching Godliness; Destined to Soar; No Longer a Slumdog; Dance Not for Time and Little Things that Make a Big Difference. For his faithful service to the Body of Christ, KP Yohannan was awarded an honorary Doctor of Divinity degree from Hindustan Bible College in Chennai, India.
Books Found in Amazon
Against The Wind Amazon, Paperback, ISBN 1595890475
A Life of Balance Amazon, Paperback, ASIN B00IMUAJSI
Come, Let's Reach The World: PARTNERSHIP IN CHURCH PLANTING AMONG THE MOST UNREACHED Amazon, Paperback, ISBN 1595890033
Crisis in Leadership Amazon, Paperback, ASIN B00IMTW9KU
Dance Not for Time Amazon, Hardcover, ISBN 1595891293
Dependence upon the Lord Amazon, Paperback, ASIN B00INZ3W3G
Destined to Soar Amazon, Paperback, ASIN B00LDW4G2C
Discouragement: Reasons and Answers Amazon, Paperback, ASIN B00INIAR9K
Journey with Jesus Amazon, Paperback, ASIN B00INIANV2
Learning to Pray Amazon, Paperback, ASIN B00IMTWNKQ
Little Things That Make a Big Difference Amazon, Hardcover, ISBN 1595891234
Living By Faith Not By Sight Amazon, Paperback, ISBN 1565999819
Living in the Light of Eternity: How to Make the Only Difference That Matters Amazon, Perfect Paperback, ISBN 1595891404
No Longer a Slumdog: Bringing Hope to Children in Crisis Amazon, Paperback, ISBN 1595890653
Principles in Maintaining a Godly Organization Amazon, Paperback, ASIN B00INIAEY8
Revolution in World Missions Amazon, Paperback, ISBN 1595890017
Reflecting His Image: The Beauty of Following Christ Intimately Amazon, Paperback, ISBN 159589005X
Seeing Him Amazon, Paperback, ASIN B00INIAIIU
Stay Encouraged Amazon, Paperback, ASIN B00INIAUHE
That They All May Be One Amazon, Paperback, ASIN B00ILILTA8
The Beauty of Christ through Brokenness Amazon, Paperback, ASIN B00IMU3IMW
The Lord's Work Done in the Lord's Way Amazon, Paperback, ISBN 978-1595890177
Touching Godliness Amazon, Paperback, ISBN 1595891218
The Road to Reality: Coming Home to Jesus from the Unreal World Amazon, Paperback, ASIN B00KMD585W
When We Have Failed-What Next? Amazon, Paperback, ASIN B00GXKPMYU
Yohannan's recently did an interview together with his good friend, Francis Chan, to talk about various issues. It can be viewed online here.
Quotes
"In the human heart, there is a built-in obsolescence factor. It does not matter how powerful and influential you are, how much education you have, how self-controlled or holy you consider yourself—your heart if you do not guard it, will break down."
― K.P. Yohannan, Living in the Light of Eternity
"I believe, as followers of Christ, we are commanded to reach out to the least of these in the name of Jesus and show them they matter a great deal to God, who sacrificed His only Son to reach them with His love."
― K.P. Yohannan, No Longer a Slumdog: Bringing Hope to Children in Crisis
"Beginning to sense his call to preach boldly in dangerous situations even though he was young and slight, the author agreed to go only if God would give him a particular sense of His presence. The next morning, the author says it was as if God took out his human eyes and replaced them with God's own because he saw other people so much more vividly."
― K.P. Yohannan, Revolution in World Missions
"No matter what Jesus faced, He lived by what He knew about Himself, not by what others thought or said about Him."
― K.P. Yohannan, Destined to Soar