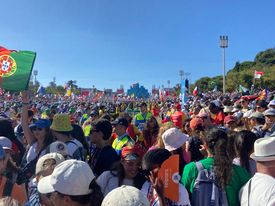 An estimated 500,000 gathered at Parco Eduardo VII, renamed Colina do Encontro during World Youth Day 2023, to welcome Pope Francis to Lisbon, Portugal.
I arrived with the fourteen pilgrim group from the Diocese of Savannah at around 3:45pm for a Welcoming Ceremony scheduled at 6pm.  The Park was packed already.  Arriving involved getting on a train followed by riding on two subway lines, during which our small group got separated.  I have traveled much, but have never ridden trains so packed, or seen train platforms so crowded.  At the same time, I have never ridden trains so filled with joyful people, singing songs, greeting each other, exchanging gifts, and all keeping a cheery attitude despite the miserable circumstances (it was very hot).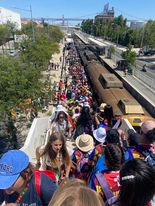 The Pope said to the half million assembled, "Dios nos quiere como somos, sin maquillaje," translated, "God loves us as we are, without any makeup."  He made the crowd repeat the words "todos, todos, todos," after emphasizing that in the Church, there is room for all, todos.  "En la Iglesia nadie sobra," he asserted, which means, "nobody is an extra in the Church."  He stressed the fact that God has called us each by name, and that the Church is mother to all.  "The Lord opens his arms to all, in the same way he opened his arms on the cross."  He finished his address stating, "Be not afraid, God loves us."
It was powerful to be part of the immense crowd.  There were so many young people singing and chanting, dancing.  Flags from so many countries – including unexpected ones such as China (I saw three separate groups today), Qatar, UAE, and Iraq.  We met 50 pilgrims from Alaska, and others from the Marshall Islands.  There are hundreds of Australians staying at our same hotel.  As a Catholic, it is powerful to experience how our faith has reached all corners of the world as Jesus asked us to do.
World Youth Day began by Pope John Paul II as an event to gather  young people from all corners of the world to encourage them in the faith.  The day has evolved into days where young people gather for various events, including catechesis on various topics.  It is a worldwide gathering of Catholic organizations: I have run into numerous priests, and met new people from all over. I visited the "City of Joy" where many organization had booths – I ran into familiar faces, and met people who know people I know.  I even ran into and chatted with a fellow Georgian who is the president of Lifeteen.  I met the President of Portugal and got my picture taken with him!  He was at our hotel last night greeting pilgrims in the lobby with his security detail.  In Fatima, I got a selfie with the nephew of two of the seers of the 1917 apparitions there – Francisco Marto, nephew of Jacinta and Francisco, the two younger shepherds.
Tomorrow evening the Pope will lead Stations of the Cross at Parco Eduardo VII, and on Saturday evening he will be present at a Vigil that will take place in a large park outside the city.  Pilgrims will walk several miles to the site and sleep over that night.  On Sunday morning, the Pope will celebrate a closing Mass at that same park.  If half a million were present tonight, I estimate the closing Mass will hit one million faithful!
Here the official prayer for World Youth Day Lisbon:
Our Lady of the Visitation,
you who arose and went with haste into the hill country to meet Elizabeth,
lead us also to encounter all those who await us
to deliver them the living Gospel: Jesus Christ, your Son and our Lord!
We, too, will go in haste, without distraction or delay,
but with readiness and joy.
We will go with peace because those who bring Christ bring peace, and well-being comes from being generous and loving in our deeds.
Our Lady of the Visitation,
through your inspiration, this World Youth Day
will be a shared celebration of Christ, whom we bring to others, just as you did.
Please make this a time of testimony and sharing, of fraternity and thanksgiving,
with each of us looking for opportunities to give to those who are waiting to receive.
With you, we will continue on this path of encounter so that our world will join us, too, in fraternity, justice, and peace.
Help us,
Our Lady of the Visitation,
to bring Christ to everyone, in obedience to the Father and in the love of the Holy Spirit!
Amen