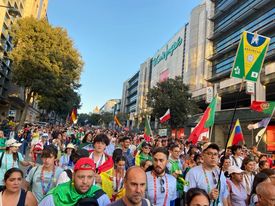 Every time World Youth Day takes place, there is a question looming over the event, where will the next one be?
On my way to Lisbon, I had a conversation on the plane with a fellow traveler about this.  In the recent past, WYD has gone to Latin America twice (Brazil and Panama), Australia and the rest have been in Europe.  With the incredible growth of the Church in Southeast Asia, perhaps that is where it should go?  It has been almost thirty years since Manila hosted it in 1995.  Maybe it's time for it to return to that part of the world.
Walking around Lisbon, the flags from Southeast Asia really do stand out after European ones.  Mostly the Philippine flag, followed perhaps by Korea, India, Singapore and the very unexpected China.
Traditionally, the location of the next WYD is announced at the closing Mass on Sunday, so in two days we will know for certain, but I call that it will likely be in Asia.  Very likely Korea.
This morning our pilgrims attempted to visit Our Lady of Lourdes Parish in downtown Lourdes for an event hosted by the John Paul II Project.  Unfortunately, the church filled up (1000 people standing inside), and we were unable to enter.  It was interesting that those in line around us for this English-speaking event were Asian.  In front of us was a large group from Singapore, behind us a group from Korea.  There were so many Korean flags in the line that wrapped all around the church – back to the front door.
During WYD events, the predominant languages used are Romance languages and English – leaving out Southeast Asia.  In Fatima however, one of the mysteries of the Rosary during the evening candlelight procession was prayed in Chinese, and another in Vietnamese.  Having WYD in Seoul would be a tremendous recognition to the significant number of Catholics that live in Korea, the Philippines, Vietnam, Timor, India, and so many other countries in that part of the world.
We wait and see!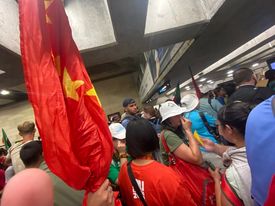 I first spotted a Chinese flag while in line at the metro station.  Later that same day, I spotted two more groups during the Opening Ceremony.  Despite so many challenges, the Catholic Church continues to grow in China.