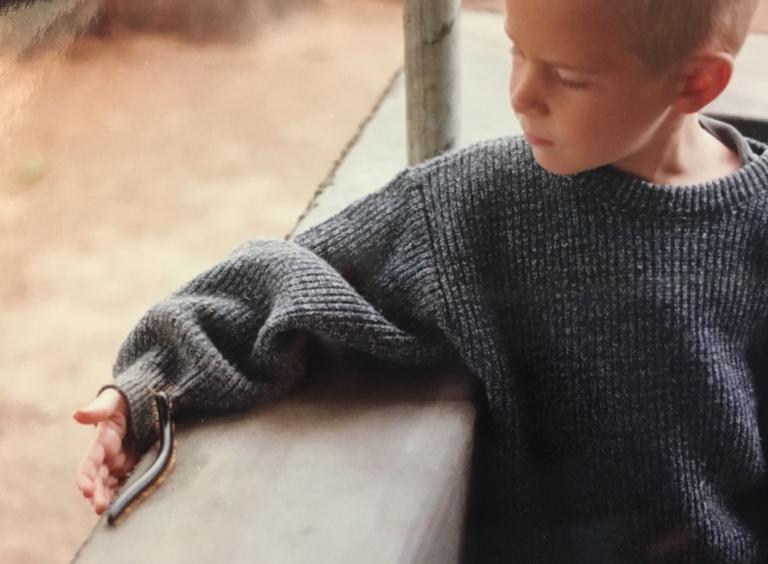 Is 2021 going to be a Groundhog Year, a repeat of 2020, or are we going back to Chongololo racing? The isolation of the pandemic has been difficult, but it's also an opportunity to take another look at our culture. Perhaps we can slow down enough to examine the advantages and disadvantages of racing around as we all did before COVID-19, and maybe we can change for the better as we look to the future.
Chongololo Racing
Children are so creative. Our first Christmas in Mozambique was not like any other Christmas, but the kids enjoyed the little things, like Chongololo racing. A Chongololo is a big black millipede that our boys found entertaining. They are sometimes as long as 6 inches and about 1/2 inch wide. One day the boys made tracks in the sand and had Chongololo races. I keep my distance from any millipede, no matter how friendly he seems, but I am happy they found a way to entertain themselves. Who needs television or store-bought toys?
As I was looking up how to spell "Chongololo," I discovered that the term "Chongololo" has been used for a person who is obsessed with Western culture. "Chongololo Racing" takes on a new meaning when I think about it that way. You've heard of the race to "keep up with the Joneses." How about the race to keep up with Western culture? Let's call it "Chongololo racing." Many things about our culture are good, but maybe we don't need to be racing each other to have everything the culture suggests we need. Maybe we could learn a few things from Eastern culture, such as taking time for family and the people in our lives, slowing down instead of racing around all the time.
Groundhog Year
I don't want to return to the frenzied life we all lived before the pandemic, but I also don't want a groundhog year—please, let's not repeat 2020. This thought came to me as the nursing home where my mom lives had to close its doors again in January. After the nursing home opened for visits just four weeks earlier, an employee tested positive for the virus. This happened so many times in 2020. Forget Groundhog Day—it felt like Groundhog Year!
And what about our culture? The pandemic exacerbated myriad problems we somehow managed to overlook before 2020. As we get back to "normal," will we just ignore what we've learned? Jump back into racing ahead in a frenzy of consumerism, leaving behind the wreckage of countless lives in our wake? Are we doomed to repeat the same mistakes over and over?
Merton on the Frenzy of Overwork
In this liminal space between the devastation of 2020 and the recovery of 2021 we all hope for, let's think about how we could be different—better, going forward. Thomas Merton had this to say about our rushing around:
"There is a pervasive form of contemporary violence to which the idealist most easily succumbs: activism and overwork. The rush and pressure of modern life are a form, perhaps the most common form, of its innate violence. To allow oneself to be carried away by a multitude of conflicting concerns, to surrender to too many demands, to commit oneself to too many projects, to want to help everyone in everything, is to succumb to violence. The frenzy of our activism neutralizes our work for peace. It destroys our own inner capacity for peace. It destroys the fruitfulness of our own work, because it kills the root of inner wisdom which makes work fruitful."
Even in our good intentions we destroy ourselves and others at times. What can we learn from the losses of 2020? Of course, we don't want to continue in isolation, but maybe we don't have to return to the centipede race. Think about it. Chongololo racing.
I'd love to hear your thoughts in the comments! What do you think the year ahead will be? Is there anything you want to hold on to from 2020? Anything you've learned?
I'm an artist who loves to write. If you'd like to get to know me better, please follow me on social media:
My Blog: susanebrooks.com
Instagram @sebrooks81 (Mostly Art)
Facebook, Susan E. Brooks, Artist
Twitter @sebrooks81
YouTube Susan E. Brooks, Artist