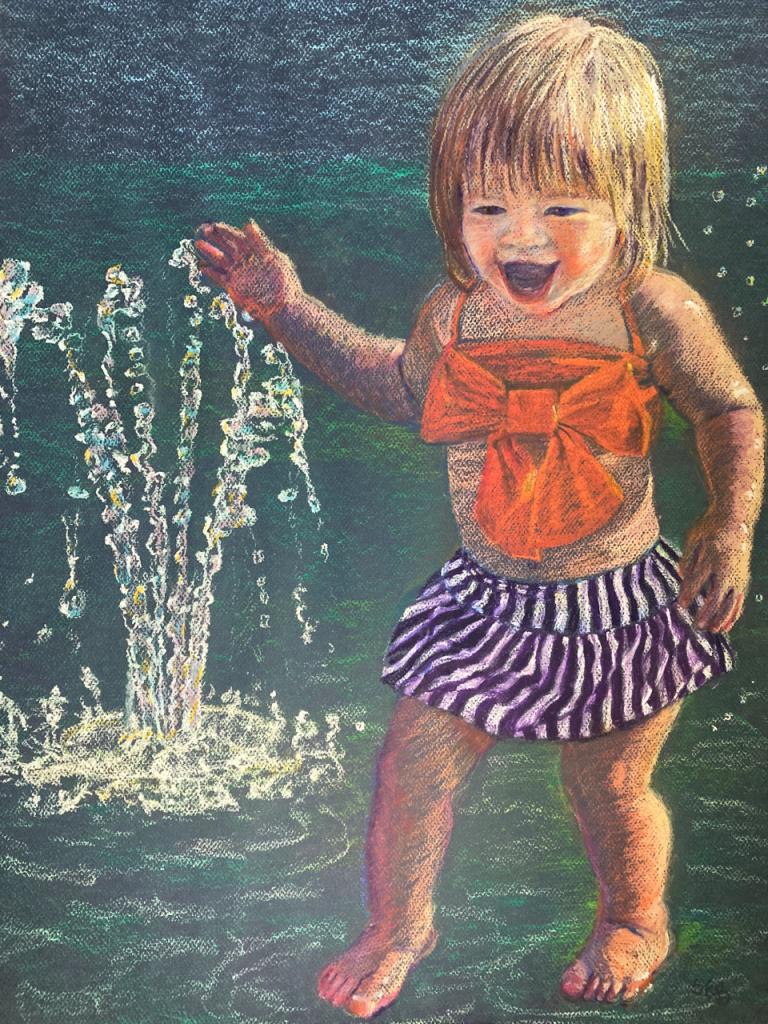 And he said: "Truly I tell you, unless you change and become like little children, you will never enter the kingdom of heaven. —Matthew 18:3 NIV
1. Find Joy in Simple Things
A few years ago when my granddaughter was almost two, we took a family trip to Gatlinburg, Tenn. The little ones were so excited to play in the splash park at the hotel. Little Judith would burst into laughter again and again when a fountain sprayed up, soaking her completely. No matter how many times this happened, she was surprised and thrilled. If only we could appreciate the simple things in our lives as little children do, even though they may happen repeatedly, such as a beautiful sunrise or the blooming of our favorite flowers.
2. Be Quick to Forgive Like Little Children
Once in a while, my grandchildren become angry with me. Though most of the time I allow them to do whatever they want, as long as it's not harmful, sometimes I say no. Of course, my grandchildren are nearly perfect (wink), but once in a while we disagree a little. Despite their disappointment, they always forgive and forget. Within a few minutes, they come crashing back into my knees to give me a hug. Then I know everything is fine. I need to be more like them—quick to forgive and forget.
3. Love Without Hesitation
I took my granddaughters to a restaurant with a play place a little while back, before COVID-19. While they were playing, a cute little boy arrived who happened to have a prosthetic foot. He looked about three years old, and for some reason, as soon as he walked into the play place, my two-year-old granddaughter put her chubby arms around him in a bear hug, and wouldn't let go!
I got up to see about it, wondering, Is this okay?
Meanwhile, she held on, to the point that I and the other grandmother watching were afraid the two locked in the embrace would topple over!
"That's so sweet!" the boy's grandmother said. "That's just what he needed!"
Sometimes, we are witnessing the collision of heaven and earth, and most of the time we don't even notice.
A Hug Opened the Door
As Judith squeezed the stuffing out of the little boy, I helped steady the toddlers so they wouldn't fall, and then they ran off to climb on the play equipment.
The little boy's grandmother then shared with me that too many little girls are afraid of her grandson's unique appearance, and it made her so happy for Judith to hug him like that. All because of a hug, I had the honor of listening to this family's story as the grandmother opened up about the many struggles her family had been through in recent months. A child's hug made friends out of strangers.
In 1 Peter 2:9 it says God's people are a "royal priesthood." Most of the time I'm not very good at priesthood, being shy and awkward with strangers, but because of a two-year-old's spontaneous hug, I was able to step into a listening role for a few minutes. I'm thankful God sometimes shows me His glory in the ordinary. I have a feeling if I pay attention, I might see Him more often.
Any thoughts on what Jesus meant by become like little children? I'd love to hear them in the comments!
I'm an artist who loves to write. If you'd like to get to know me better, please follow me on social media.
My Blog: susanebrooks.com
Instagram @sebrooks81 (Mostly Art)
Facebook, Susan E. Brooks, Artist,
Twitter @sebrooks81