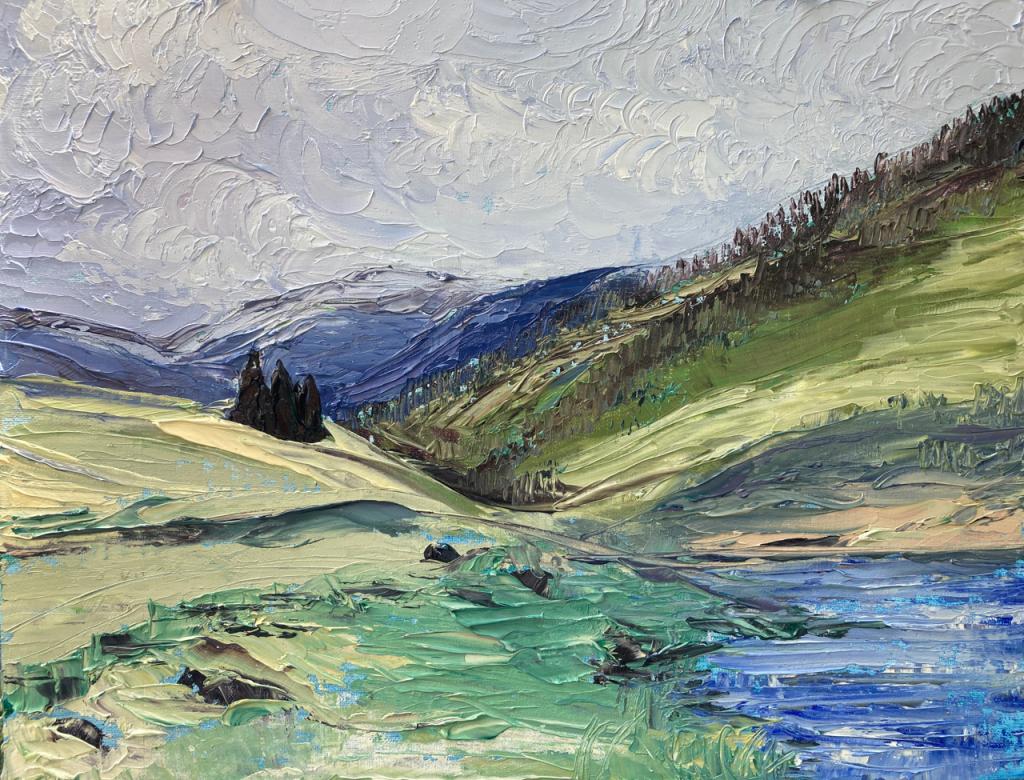 Sometimes it's hard to believe. When God seems to ignore our prayers, and the world news is devastating, how do we know God is in control? Can we learn from nature? What does the Bible say about it?
A God-bathed World
We can begin by venturing outdoors, where nature teaches us about the power and love of God. Dallas Willard in "The Divine Conspiracy" put it this way:
"This is a God-bathed and God-permeated world. It is a world filled with a glorious reality, where every component is within the range of God's direct knowledge and control—though he obviously permits some of it, for good reasons, to be for a while otherwise than he wishes."
I believe we see evidence of this truth daily if we open our eyes and our spirits.
In May, we traveled to Colorado to celebrate our anniversary and see some different landscapes. As you can see in the painting above, snow-covered mountains were a backdrop for warm spring greens and blue summer lakes. This morning I sat in my yard and watched the chipmunks chase around as if the world was designed entirely for their joyful, hyper antics. The birds flitted around singing, and the rabbits nibbled away in the grass. Vast landscapes take our breath away and tiny animals enchant us. Whether out west or at home in Kentucky, I feel God's presence and his sovereignty in nature.
God Working for Us and In Us
Next we can turn to the Bible. Scripture teaches God is working for us and in us. According to Ephesians 2: 10, "we are God's handiwork, created in Christ Jesus to do good works, which God prepared in advance for us to do" (NIV). God prepared good works for us already, and I believe God guides us into those works if we are the least bit willing. In the book of Philippians we see that God began a good work in us, continues to work in us, and will complete the work in us:
"being confident of this, that he who began a good work in you will carry it on to completion until the day of Christ Jesus" (Phil. 1:6 NIV). "for it is God who works in you to will and to act in order to fulfill his good purpose" (Phil. 2:13 NIV).
God is in control as he works for us and in us to accomplish his good purposes.
God's Purposes May Allow for Suffering
Trusting that God is in control does not mean suffering will vanish if we have enough faith. The apostle Paul wrote the book of Philippians from prison. He was in chains and yet God was with him and brought good from the situation (See Phil. 1). The last few verses of Romans chapter 8 explain at least part of what it means for God to be in control of our lives. It means he will love us through our suffering.
For I am convinced that neither death nor life, neither angels nor demons, neither the present nor the future, nor any powers,neither height nor depth, nor anything else in all creation, will be able to separate us from the love of God that is in Christ Jesus our Lord. —Romans 8:38-39
What does "God is in control" mean to you? I would love to hear about it in the comments.
I'm an artist who loves to write. If you'd like to get to know me better, please follow me on social media.
My Blog: susanebrooks.com
Instagram @sebrooks81 (Mostly Art)
Facebook, Susan E. Brooks, Artist,
Twitter @sebrooks81