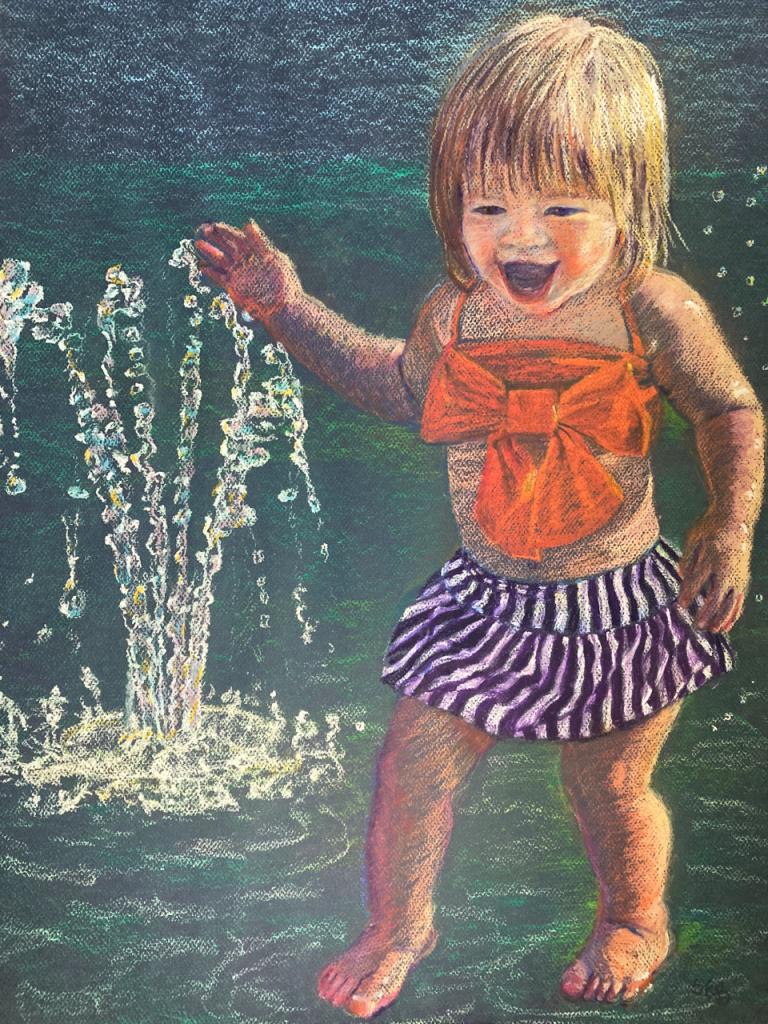 I owe the idea for this post to my granddaughter. She helped me see that when it comes to aging, perspective is everything. The other day we were at the pool, and the conversation went something like this:
Judith: "Ony, what happened to your legs?"

Me: "Oh, those are just spider veins, broken blood vessels that happen when you get old."

Judith: "Really? Well, I think they're beautiful because they're purple!"
A Fresh Perspective
Isn't that a wonderful way to look at it? If only we could have the perspective that an innocent child has. This encounter started my thinking about perspectives and aging. What does the Bible say about the aged? Does our culture need a fresh perspective about growing older? I suspect we do, so I decided to do a little research.
Psalm 92:12-15
(NIV) is a great place to start:
The righteous will flourish like a palm tree,
they will grow like a cedar of Lebanon;
13 planted in the house of the

Lord

,
they will flourish in the courts of our God.
14 They will still bear fruit in old age,
they will stay fresh and green,
15 proclaiming, "The

Lord

is upright;
he is my Rock, and there is no wickedness in him."
Bragging on God
I wouldn't claim to be righteous, but I try. It's interesting to me that in the passage above, the righteous are not claiming to be righteous themselves. Rather, they are proclaiming, "The Lord is upright; he is my Rock, and there is no wickedness in him." They are bragging on the righteousness of God—that I can do. We can worship and praise the Lord and be thankful for a long life. A grateful heart will help us stay fresh as we age.
Gray Hair Implies Wisdom
The glory of young men is their strength, gray hair the splendor of the old. — Proverbs 20:29 NIV
The glory of young men is their [physical] strength, And the honor of aged men is their gray head [representing wisdom and experience]. — Proverbs 20:29 AMP
I will admit I struggle with this one. I don't feel ready to go gray. Of course, we're free to be ourselves, color hair, and do any number of things just for fun. I don't believe God minds about those things, but the principle is that aging brings a special splendor. As the AMP version suggests, the splendor or honor isn't about the color, but about wisdom and experience. So go gray or not, but remember, there is a blessing in the wisdom and experience of age.
Grandchildren Are the Best
Grandchildren are the crown of the aged, and the glory of children is their fathers. —Proverbs 17:6 ESV
I can attest to the truth of Proverbs 17:6. I am so happy when my family gets together and the grandchildren are running around playing with each other causing chaos and mayhem. Their original, honest insights make me laugh and give me a new perspective on life. They are indeed my crown, and I'm so thankful for them all.
Changing Our Perspective on Aging
It's not easy growing old, but maybe if we focus on what the scriptures say, we can feel better about it. We can be thankful for the goodness of God over the years, share our wisdom and experiences with others, and relish the joys of having grandchildren. I pray you find ways to thrive as you grow older.
Any advice on aging? I'd love to hear it in the comments!
Some of my artwork will be available for purchase at the Dupont Mansion this Saturday, July 24 as part of the Historic Mansion Tour in Louisville, Kentucky. Several artists and I will be painting in the garden of the mansion this weekend.
My Blog: susanebrooks.com
Instagram @sebrooks81 (Mostly Art)
Facebook, Susan E. Brooks, Artist,
Twitter @sebrooks81