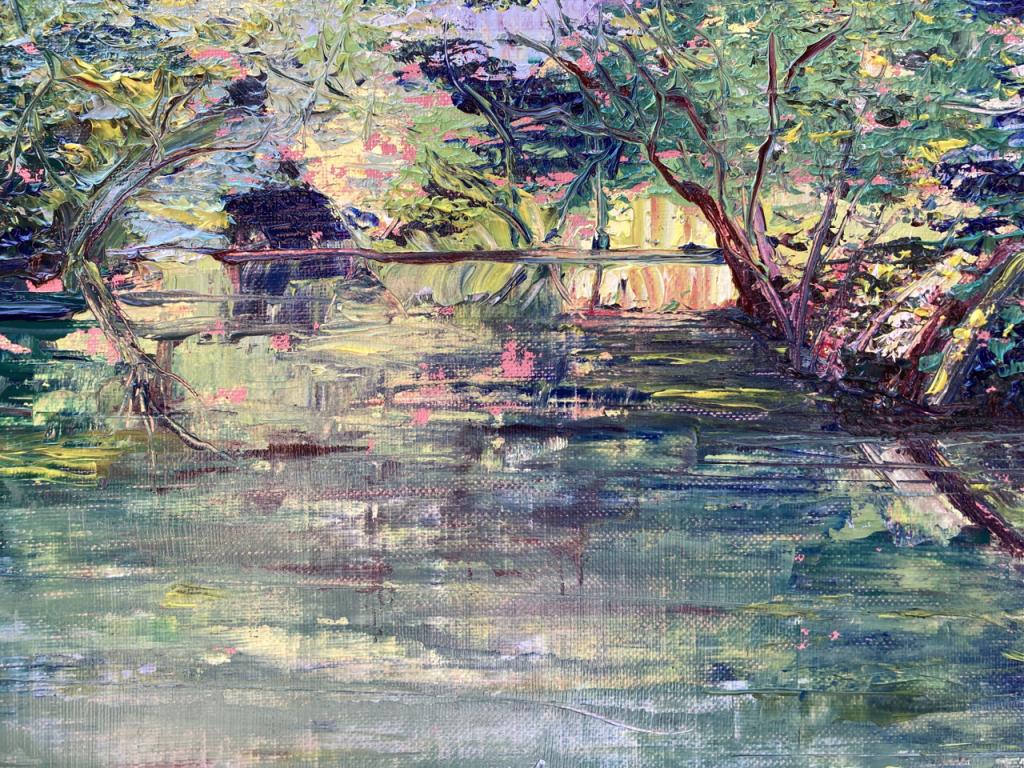 As an artist, I struggle with a balance between ambition and contentment. Some of us view contentment as giving up, quitting, lying down, or surrendering. But isn't there a balance somewhere? Is ambition even okay? After all, Philippians 2:3-4 says,
"Do nothing out of selfish ambition or vain conceit, but in humility consider others better than yourselves. Each of you should look not only to your own interests, but also to the interests of others."
First let's notice what the verse doesn't say. It doesn't say all ambition is wrong. It doesn't say never look to your own interests. It says "not only to your own…but also to the interests of others." The verse implies we take care of our own interests and see if we can help others. This reminds me of the instructions on airplanes for those traveling with children. In case of an emergency, they tell us to put our own oxygen mask on first, then see to our child's mask. Sometimes, taking care of your own needs allows you to better care for others.
So how do we balance ambition and contentment? When does self-care become selfish ambition? Another verse says, "Godliness with contentment is great gain" (1 Timothy 6:6). I'm trying to figure this out daily, so maybe we can explore these questions together.
Contentment, Not Complacency
I don't think godly contentment means we shouldn't try to hone our skills and pursue goals and dreams. I hope my artwork is always improving, but I also need to guard against discouragement when the improvement doesn't come as quickly as I'd like. I need to be patient, content, and grateful I have a chance to work on my art. At some point, I have to let go, and say, "Yes, the painting is finished," even if it might not live up to the vision in my head. Author Marianne Williamson said,
"The highest prize we can receive for creative work is the joy of being creative."
I need to cultivate contentment within the creative process. One way to do this is to look back and be grateful for the journey. I may not be where I want to be as an artist, but I'm not where I used to be either. Let's celebrate the victories we've had along the way. Then perhaps we can open up to the inspiration God has for us today and receive it with joy.
What Is Selfish Ambition?
I think the verse above implies selfish ambition is vain and conceited. Do I think I'm better than everyone else? Do I pursue my goals even if others are hurt along the way? Then I need to examine my heart. Selfish ambition doesn't move beyond success for the self. It doesn't move on to help others.
Is all ambition selfish? I don't think so. My success doesn't need to cause others harm. We can help each other along the way. An artist friend once said to me, "Your ambition is inspiring!" I think she meant that if I can show my work in galleries and have some success, it encourages her to pursue her own artistic goals. We meet to do plein air painting together and share resources. We're even having a plein air show at a gallery next spring with other artists. We can succeed together and grow together.
God has plenty of joy and success to go around. The scarcity mindset is a false narrative. We don't have to deprive others to take care of ourselves. God is bigger than that. Abundance, room for all, love for all—these are the paradigms I try to live by.
Any suggestions on finding a balance between ambition and contentment? I would love to hear your thoughts in the comments.
I'm an artist who loves to write. If you'd like to get to know me better, please follow me on social media.
My Blog: susanebrooks.com
Instagram @sebrooks81 (Mostly Art)
Facebook, Susan E. Brooks, Artist,
Twitter @sebrooks81