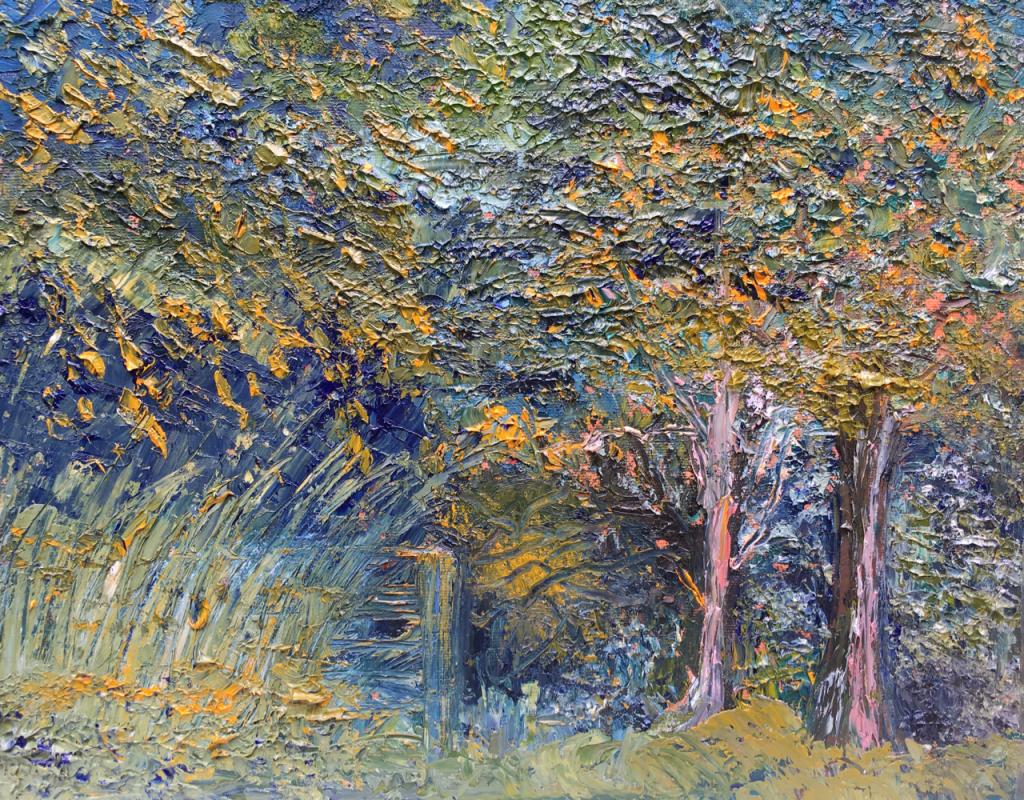 Even when the world seems chaotic, I believe in a God of abundance. I want to live by the assumption God has plenty for all of us, and if you are blessed, that doesn't take anything away from me. I want to avoid a scarcity mindset, which leads to jealousy and resentment. If I believe in scarcity, I act as if God does not have enough, and I need to fight and hurt others to survive. I'm not promoting a "health and wealth" gospel. Abundance and scarcity, as I use those words here, do not refer to getting rich or being poor in material possessions. This is about a mindset.
Art and the Church
This week I'm reading Makoto Fujimura's book, "Art and Faith: A Theology of Making." The book is fascinating for me. For years I've felt compelled to paint, draw, and create, but have not felt the churches I grew up in honored the arts. In fact, it seemed they were leery of arts and entertainment. The unspoken feeling was that the devil claimed nearly all of the arts, and most artists were dangerous. As a devoted lover of Jesus, where did that leave me? It left me searching for ways to justify spending so much—or wanting to spend so much time making art. Sometimes I felt guilty for spending time creating, when I could have been teaching the Bible or feeding the hungry or other good works. So I've struggled a bit with my identity as a Christian artist.
Creative Work as Worship
Reading Fujimura's book is like finding a long lost friend. Someone understands me, and sees creating art as a holy act of worship. I'm not trying to say artists are extra special. Rather I want to express what I longed to hear as a young creative. As we worship the Creator God, creativity can be a sacred work. And sacred art doesn't have to be paintings of Jesus. Fujimura says it this way:
What we build, design, and depict on this side of eternity matters, because in some mysterious way, those creations will become a part of the future city of God. Even in seeking justice and and fighting against injustices of the world, if we do not depict future hopes, as Martin Luther King, Jr., did in his "I Have a Dream" speech, we will be constantly defined by the opposition or the power of oppression (Art and Faith, p.12).
In other words, we can use art to imagine and give visual expression to God's future kingdom, as Martin Luther King, Jr., imagined a peaceful world without racism.
Expressing Abundance
The ways Fujimura describes his art process and how his luminous abstract art relates to the light of Christ helped me think about themes in my art. I started plein air painting in 2019. At first, I felt constrained to follow the methods and guidelines of other artists, but one day that changed. I decided it would be fun to paint with huge globs of paint on my palette knife, adding loads of texture to my work. I first started experimenting, but I loved the process so much. It felt like a wonderful freedom and joy, like believing God really does have an abundance for us all—like his love and provision will never run out. I saw God's extravagant blessing on my life, heaped on with layers of color and texture—that's what God does for us. And the dark places make the light even brighter in the end.
So painting can be a sacrament, and God can speak through it of love and abundance. This is my hope. I pray you experience God's abundant blessing through your work as well.
What are your thoughts about an abundance or scarcity mindset or about art as worship? I would love to hear your thoughts in the comments.
I'm an artist who loves to write. If you'd like to get to know me better, please follow me on social media.
My Blog: susanebrooks.com
Instagram @sebrooks81 (Mostly Art)
Facebook, Susan E. Brooks, Artist,
Twitter @sebrooks81