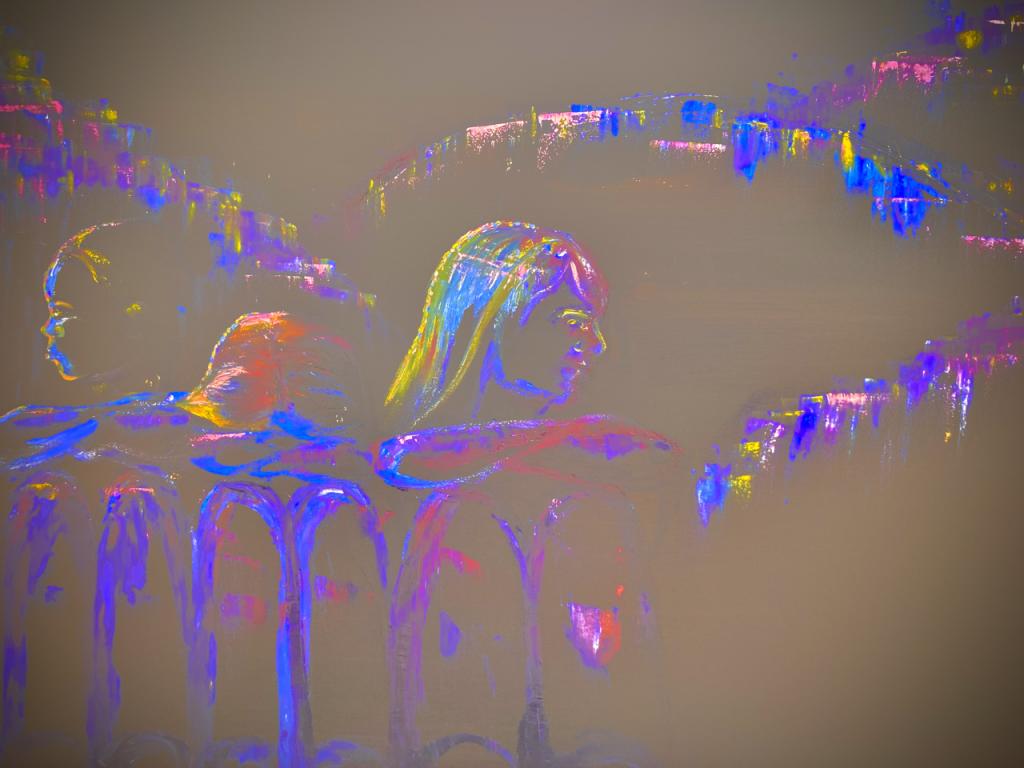 I've been reading some of the poems of Rainer Maria Rilke, and they stir up something in me. There's one in particular that I love. He describes light as something that only includes those within it's radiance, excluding those who are left in the dark. The dark, on the other hand, is inclusive of all of us, and he imagines "a great presence" stirring beside him in the dark. I love to think of God as a great presence, always with me, even—and especially—in the dark.
The painting above is my attempt to express what that poem conjures up in my mind. I painted three women on a black canvas, in the dark, but how to portray the presence? I painted a line that looked almost like the mountains against a horizon in the background, reaching around the women. Then, I remembered a song based on Psalm 125:2:
As the mountains surround Jerusalem, so the Lord surrounds his people from this time forth and forever.
Now the mountains make sense. God does surround as the mountains surround those who live among them. When we traveled to Colorado, we experienced all kinds of weather within just s few days, all in one state. Snow and rain as well as dry heat and sunshine, but the mountains were always there, unmoved by the changes, supporting any kind of weather. Perhaps God is more like a mountain than I ever thought. He's always there, no matter what we're going through, in light and in darkness, rain, snow or sunshine.
In the painting, one woman is looking away and can't see the mountain. It's still there. The woman in the middle is looking down. She can only see her pain in the dark, but the mountain is still there. The third woman is looking toward the mountain. This reminds me of Psalm 121:1-4:
I lift up my eyes to the mountains— where does my help come from? My help comes from the LORD, the Maker of heaven and earth. He will not let your foot slip— he who watches over you will not slumber; indeed, he who watches over Israel will neither slumber nor sleep.
Even if we're sleeping in the dark, God is not sleeping. He is surrounding us like the mountains in Colorado. When I get out in nature and consider the vastness, power, and beauty of the creation, I am able to trust a little more. I am able to believe a little more. When I am in a good place spiritually, open to the suggestions of the Spirit, I see God and remember comforting scriptures everywhere I turn. This focus leads to the healing of my body and soul. When my spirit is open to Him, I can see God even in the darkness, like the poet Rilke did:
"But the dark embraces everything: shapes and shadows, creatures and me,

peoples, nations—just as they are.

It let's me imagine

a great presence stirring beside me.

I believe in the night."
"Just as I am without one plea…." This is our God who loves us in the dark just as we are. I hope you can believe a little more in that truth today.
How have you experienced God in the darkness? I'd love to hear it in the comments!
I'm an artist who loves to write. If you'd like to get to know me better, please follow me on social media.
My Blog: susanebrooks.com
Instagram @sebrooks81 (Mostly Art)
Facebook, Susan E. Brooks, Artist,
Twitter @sebrooks81