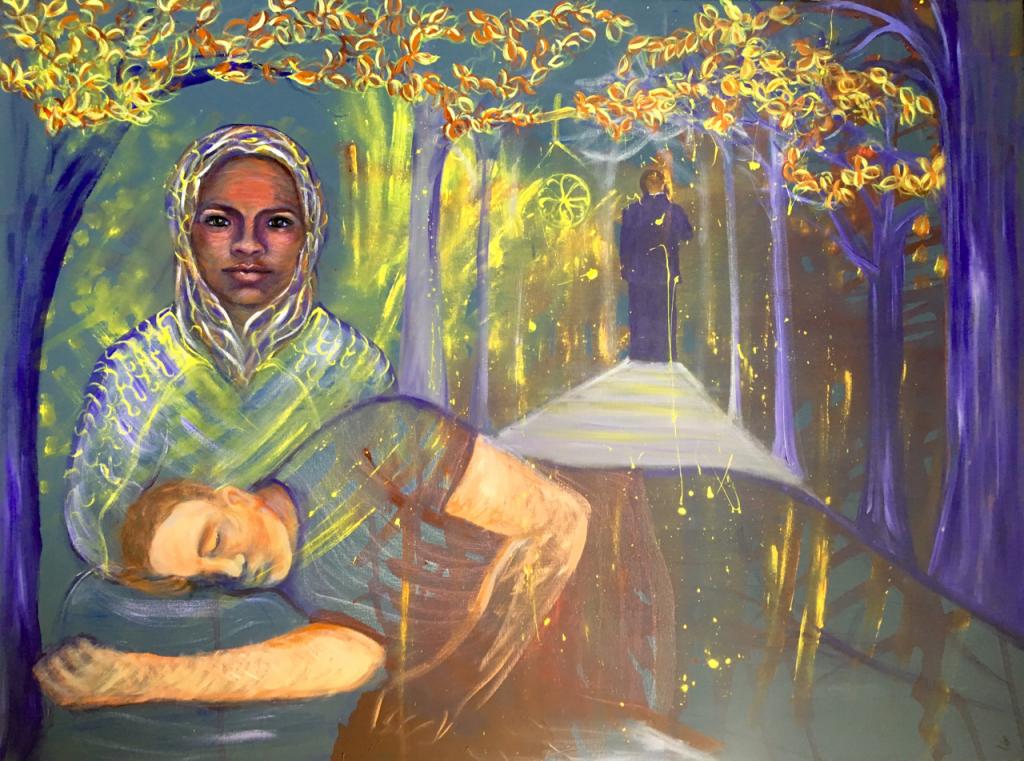 In Ephesians 1:18-20, the Apostle Paul seems to be saying that God gives incredible hope and "power for us who believe." We all need hope and power to make it through our days, but I'm skeptical of people who crave power, and also of Christians who claim to have a corner on the market of God's power and blessing. But what does this verse mean? What do we know about God's power in our lives and how do we live with power and love from day to day? I think the key might be in realizing that we are all so loved.
I pray that the eyes of your heart may be enlightened in order that you may know the hope to which he has called you, the riches of his glorious inheritance in his holy people, 19 and his incomparably great power for us who believe. That power is the same as the mighty strength 20 he exerted when he raised Christ from the dead and seated him at his right hand in the heavenly realms, 21 far above all rule and authority, power and dominion, and every name that is invoked, not only in the present age but also in the one to come.

—Eph. 1: 18-21
Accept Love and Forgiveness
First, we need to accept God's love and forgiveness. I certainly don't live in constant power and joy, but I'll share what has helped me. Brother Lawrence comes to mind when I think about my best days. Years ago, I read "The Practice of the Presence of God" by Brother Lawrence. I think what struck me about his practice was that he confessed, but then he quickly accepted God's love and forgiveness. He was able to believe in the love and forgiveness of God and carry on without dwelling on his own faults.
Some of us may have been taught a warped form of Christianity that requires our constant self-flagellation instead of accepting God's unconditional love. And it is knowing that we are loved which can bring resurrection power to our lives. The greatest gift you can receive is believing in God's love. God gave us this gift in Christ, and we can give that gift to our children and others by loving them unconditionally. This is my application of the verses above. I may be wrong, but God will still love me and accept me if I am.
We Don't Know
Though we may not know everything about the power of God, we can still have hope. We have this quotation by Thomas Merton hanging in our kitchen:
"My Lord God, I have no idea where I am going. I do not see the road ahead of me. I cannot know for certain where it will end. Nor do I really know myself, and the fact that I think that I am following your will does not mean that I am actually doing so. But I believe that the desire to please you does in fact please you. And I hope I have that desire in all that I am doing. I hope that I will never do anything apart from that desire. And I know that if I do this you will lead me by the right road though I may know nothing about it. Therefore will I trust you always though I may seem to be lost and in the shadow of death. I will not fear, for you are ever with me, and you will never leave me to face my perils alone."

― Thomas Merton, Thoughts in Solitude
The Resurrection Power of Love
Maybe resurrection power comes from believing I am loved. Growing in this belief has given me the confidence to try new things. Feeling secure enables me to face challenges I never thought I would have the courage to face. Through the years, I occasionally met a Christian who seemed to have great freedom in Christ. And along with the freedom that came from security, they also had amazing power. Some accomplished wonderful feats of grace and blessing for their communities. Sometimes, their activated dreams echoed around the world. That's my best guess: resurrection power comes from believing God loves you.
What do you think it means that God gives us resurrection power? I would love to hear about it in the comments.
I'm an artist who loves to write. If you'd like to get to know me better, please follow me on social media.
My Blog: susanebrooks.com
Instagram @sebrooks81 (Mostly Art)
Facebook, Susan E. Brooks, Artist,
Twitter @sebrooks81