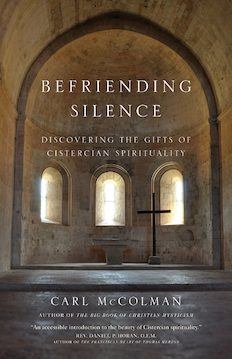 Carl McColman's Befriending Silence: Discovering the Gifts of Cistercian Spirituality presents a mystical spirituality for everyday people. You don't have to be in a monastery to experience God. You can be an everyday mystic, while you're fixing breakfast for your children, driving to work, caring for an elderly parent, or giving your spouse a massage. God is in all things and holiness is found in every place and each encounter can be an invitation to holiness.
A characteristic of monastic life is stability. A monk vows to stay in one place and pursue his – or her – spiritual growth. Yet, this vow of stability is not the same as changelessness or preserving the status quo. Stability, staying put in one place, can also be the foundation of novelty. In fact, creative spirituality involves the interplay of tradition and novelty, and familiarity and innovation. This is the message of Lamentations 3:22-26:
The steadfast love of the LORD never ceases,
his mercies never come to an end;
they are new every morning; great is your faithfulness.
"The LORD is my portion," says my soul,
"therefore I will hope in him."
The LORD is good to those who wait for him,
to the soul that seeks him.
It is good that one should wait quietly
for the salvation of the LORD.
I believe that God is steadfast, but constantly changing. God is faithful and divine fidelity is contextual and adaptable. God's love is constantly growing and evolves in relationship to a changing world. Aristotle once spoke of God as the "unmoved mover." In contrast, the living God is the "most moved mover," changeless in loving, ever-changing in love's expression.
Stability is essential to a good life. I've never been a monk. In fact, I've been a husband for nearly 37 years. A long-lasting marriage reflects the same fidelity and stability as the monastic life. You commit to one person and to journey with the other through all the changes of life. "For better, for worse; for richer, for poorer; in sickness and health" is a commitment to stay put, regardless of life's circumstances. Still, stability is anchored in change. The best of marriages is growing, adapting, and evolving. My wife Kate is ever the same and ever-changing, and our stability is manifest in the balance of constancy and innovation.
In my own marriage, stability reminds me to look for wholeness and holiness in each situation. The quotidian adventures of daily life remind us that God is not somewhere else, but resides in the Holy Here and Holy Now. The quotidian is the expected; it is also the unexpected and surprising.
McColman describes stability as "loving the place where we are." We "love the one we're with" – the child we're diapering, the spouse with whom you're shopping, the grandchild we comfort in the middle of the night, and the friend we accompany at the descending edge of life.
"Stay put" while you're on the move. Our stability is in our companionship with God, who is always changing and always the same. In our stability, we find delight in facing change yet grounding ourselves in an everlasting love.
Visit the Patheos Book Club for more on the new book Befriending Silence by Carl McColman.