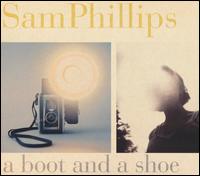 When no one's listening I have so much to say…
That's a line from "How to Quit," the first song on Sam Phillips' A Boot and a Shoe. It's a loaded line. She's been a critically acclaimed singer-songwriter since her debut The Indescribable Wow in 1988. Her work has been consistently produced by the best in the business—T-Bone Burnett—every step of the way. If the torch of the Beatles' sound, style and songwriting prowess has been carried by anyone, it's been Sam, who sometimes seems to be singing the catalogs that great band would have produced had they stayed together, alive, and relevant. You'd be hard pressed to think of a vocalist so interested in sonic invention and re-invention. Her songs have been the soundtracks for films, her catchy pop hooks have been the barbs of commercials, and her smooth harmonies have supplied the interludes for a popular television series. And yet today, she remains "undiscovered."
All the better for the fortunate few who have faithfully followed her all these years. It means we stand a chance of getting into the intimate concerts Phillips is performing at a few select venues around the country. Her tours are rare and wonderful events. And this time Phillips is sharing with audiences the confessions, pain, poetry, and revelations of a pivotal time in her life.
I was broken when you got me
With holes that would let the light through.
As she so often does, Phillips is again focusing on a state of brokenness and the way that having our hearts split open by betrayal, anger, loss, and change can open us to the influence of divine grace. When Phillips sings about loss, the songs just ache with personal confession and raw need. It's a theme that goes all the way back to her 1986 album The Turning.
You probably know the story. (If so, skip to the next paragraph.) In 1986, Phillips was recording under the name Leslie Phillips, and was a celebrated Contemporary Christian music pop star. That kind of singing made fans of safe, preachy, positive Christian music uncomfortable. When she unveiled songs about disillusionment, unanswered prayers, and a restless need to break away from the expectations of her judgmental peers, it quickly became clear that such honesty did not belong in the Christian music industry. The Turning proved indeed to be a turning point. She changed her name to Sam, her childhood nickname. And she married T-Bone Burnett. Thus was born one of the most interesting marriages in rock history.
Sam's music has always been about two kinds of relationships, the flawed, needy, desire-driven human loves, and the transcendent, mysterious, elusive romance with a benevolent God who never lets her rest. God is a mystery lover, a relentless pursuer, who constantly whispers that we should look past the visible world to invisible realms of truth and mystery. His love does not follow the straight lines of logic or reason, but asks us to step into the darkness of faith. On her last album Fan Dance, she sang, "I've tried, I can't find refuge in the angle. I walk the mystery of the curve." That courtship continues here….
All night, all night,
I've been looking for you all night…
No straight lines when love unwinds out in the night where you took the light
You're all around but I haven't found you
You're coming in, right through my skin,
Oh comrade, what do you need?
While the listener cannot escape the sense of God's nearness to the singer, A Boot and a Shoe is primarily about the collapse of a human relationship. We are given hints of this mismatched couple's story. While the singer was drawn to the magnetism of someone who met her needs, she has found herself unable to keep them from being torn apart by human desire. Whatever the details of their marriage, it's clear that Phillips is again at a turning point. She sings about wanting more, wanting to maintain the relationship, but realizing that it is too late and there is nothing she can do.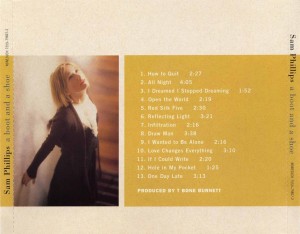 Thus, this record reveals a significantly changed artist, one who is letting go, humbled, softened and bruised. She has lost that cocky edge, that searing sarcasm, that voice of authority.
In "Love Changes Everything" she sings about being glad for the experience, even if she must also humbly admit that things have become broken beyond repair.
Love changes everything
I'm not sorry we loved,
But I hope I didn't keep you too long
And yet she bravely vows to continue in relationship for the good that can come of it. In a way, she's affirming the good work they do together, even when intimacy fails.
We're not experts
We are believers, ministers of silence
Let no man pull us under doubt
I'll always open my hands to you
I'll be right behind you
In "If I Could Write", things become even more explicit, as she talks about this significant other who tends to draw "girls looking for themselves in [his] eyes." Was she once one of those women, impressionable and vulnerable? The reference to his ring, which he no longer wears, is as blunt as any line on the album:
I took your ring that never comes off and put it on
Sorry to lose you, sorry to keep you after you were gone
Nothing is small, nothing is unexpected
I want more
When I go this time I don't think I'm coming back.
Desire's the element I can't fight,
Dream is the arm of God.
The album is not all so confessional and sad. There's an infectious sense of playfulness. Where Fan Dance was an album heavy with acoustic guitar, this album is her most percussive endeavor. The drums are quirky, unpredictable, and dominant. In the groovy shuffle "Draw Man," both Carla Azar and Jim Keltner provide percussion while the Section Quartet carve out a rough-edged string solo. This fantastic ensemble returns her to one of her favorite subjects… digging deeper, excavation, exploration. And yet she's still exploring—in fact celebrating—her relationship with her creative partner:
Dig baby you're a draw man
A pipe man, a furnace, a filler
Let's make time escape
Let's excavate the surface…
Her refusal to resort to self-pity and despair gives the album room to develop a pervading sense of hope. It's a feeble but unfailing belief that in the brokenness there is opportunity. In what may be the most beautiful song of her career, "Reflecting Light," she sings,
Now that I've worn out, I've worn out the world
I'm on my knees in fascination
Looking through the night
And the moon's never seen me before
But I'm reflecting light…
It's that sense of wholeness in brokenness, of being a channel for grace, of suffering being the conduit for a testimony of unconditional, everlasting, sublime love that continually elevates Sam's music. And what sets apart this collection is the way she draws back from that hard-edged, stern, assured voice and sings more softly, more cautiously, as if to herself in the darkness where she, having lost it all, she is experiencing a fullness beyond herself, reflecting light from a truer source than herself. Help is coming on God's time, not ours.
So we conclude with an affirmation that God's love is the kind that waits until the thing is dead and buried, and that's when new life comes. As Bono sings, "Midnight is where the day begins…"
Help is coming, help is coming
One day late
After you've given up and all is gone
Help is coming one day late
You try to understand, you try to fix your broken hands
But remember
That there always has been good like stars
You don't see in the day sky
Wait till night
We may not understand, and my tentative speculative endeavors to understand these lyrics may be spectacularly misguided. But the lyrics are so beautiful, spacious, and sung with such sadness and need that they lead me to the place again to which The Turning led me in 1986… to a remembrance of my vulnerability and total dependence upon the mystery of Christ, my rock and my redeemer, when all else is shifting sand … even those contracts I tend to assume are most binding.
When no one's listening, she does indeed have so much to say… for those with ears to hear.
Sam Phillips will be playing at the Century Ballroom in Seattle on June 5th, 2004.