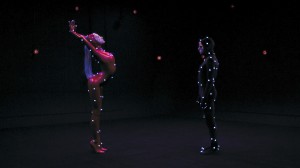 As Holy Motors begins, a sleepwalker leans against his bedroom wall, upon which a forest is painted.
Or might it be a real forest after all?
The sleeper — played by filmmaker Leos Carax — moves into it, like Lucy stepping into Narnia, where he finds a strange movie theater and a catatonic audience.
Here comes an ancient dog — both magnificent and menacing — stalking down the theater aisle. Perhaps he's a portent of the death of cinema in the age of digital media. Perhaps he's Carax himself, transformed, an old dog come to show us some new tricks.
And wow, does he have some new tricks.
Read my full review at Good Letters, the blog hosted by Image.