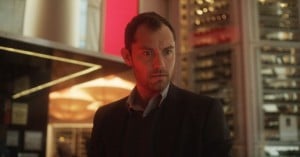 If a doctor asked you to be the guinea pig for an experimental drug, would you do it?
What kind of side effects would make such an experiment too risky?
Would you feel better if you knew that good results would advance the doctor's career? What if you learned that pharmaceutical companies were using you in a strategy to make more money?
Shouldn't we hope to find drug-free solutions before turning our bodies into elaborate chemistry experiments?
These are disturbing but relevant questions for artists to explore through storytelling, given how frequently we hear about insider trading, corruption, and the disordered priorities that drive pharmaceutical companies. I suspect that a great film could be made on the subject.
Side Effects, the latest (and perhaps last) big screen endeavor by the unpredictable Steven Soderbergh, starts out like it just might become a great film on this subject. Or at least a good one.
The film opens as Emily Taylor, (Rooney Mara, the American manifestation of The Girl With the Dragon Tattoo) welcomes home her husband Martin (Channing Tatum) after he's served a prison sentence for insider trading. It's obvious that Martin is going to stumble right back into unethical business, and it's also obvious that Emily's life is still crumbling even though her husband is home. Before long, she's spiraling down into suicidal mania.
Jonathan Banks becomes her psychiatrist, a man eager to solve her problems with drugs and experiments. But his attempts lead to new and more troubling problems. On the advice of Victoria (Catherine Zeta-Jones), Emily's previous psychiatrist, Banks puts Emily on a new drug called Ablixa. And then… well, then, ladies and gentlemen, we have a movie!
That is to say, what begins as a thought-provoking tour of an medical-ethics quagmire suddenly quickly devolves into the kind of thriller that you'll probably find yourself watching on cable at 2AM in a few years, not the kind of movie that inspires discussions about doctors, drugs, and how to deal with depression. It feels, in the end, more like a C-grade De Palma film. If it has been released in the late-80s, it might have caused more of a stir, but too many movies since then have taken turns of this sort.
As a doctor who panics when he's sees just the consequences of his compromises, Jude Law turns in one of his finest leading man performances. As Emily's behavior becomes increasingly bizarre, he becomes our anchor, the closest thing to an Everyman. Law stands tall as the movie falls apart around him.
Rooney Mara's impressive in her hysterics, sure, but it's disappointing to watch her dig herself into a typecasting rut as "Damaged, Delusional, and Dangerous." Good luck to the director who tries casting her in a romantic comedy.
The other two faces on the movie poster? Catherine Zeta-Jones, well… let's just say she could have chosen a better project for a comeback. And Channing Tatum's character is no more substantial than the tough guy he played in Soderbergh's Haywire.
I wish I could say that the performances make Side Effects worth the ticket price, but no.
This story is full of the sort of surprises that a reviewer is likely to spoil if he says much more than I have about the plot. I won't spoil them. And yet, I feel compelled to say that the surprises aren't much to get excited about. They come from the Magic 8 Ball of Hollywood Plot Twists, as arbitrary as they are implausible. And they make much of the film's fretting about medical ethics seems unnecessary and irrelevant. The subplot about the tensions rising in Banks' marriage begins to feel obligatory, not interesting or particularly helpful.
Soderbergh seems to be enjoying his work as cinematographer more than his work as a storyteller; his compositions and lighting here are often striking and inventive. I believe him when he says he's losing interest in "the tyranny of narrative" and wants to spend the next chapter of his life as a painter. Also, Thomas Newman's score is almost reason enough to see the movie. It's more than sufficiently agitating and moody.
But overall, I can't shake the sense that the film's strong, intelligent beginning makes the disposable twists of the second half seem even sillier than they are by contrast.
Not only that, but film critic Mike D'Angelo, in some spoiler-heavy comments on Letterboxd, has pointed to a contradiction in the film itself that suggests the storytellers didn't think through the implications of their own big secret.
Like most film critics, I hope Soderbergh isn't serious about retiring. Out of Sight remains one of my favorite films, and 2012's Haywire was thrilling. He's one of the most interesting directors around. And it would be a shame if his big-screen career closed with a whimper instead of a bang.
–
Director – Steven Soderbergh; writer – Scott Z. Burns; director of photography – Peter Andrews; editor – Mary Ann Bernard; music – Thomas Newman; production design – Howard Cummings; costumes – Susan Lyall; producers – Lorenzo di Bonaventura, Gregory Jacobs and Scott Z. Burns. Starring – Jude Law (Dr. Jonathan Banks), Rooney Mara (Emily Taylor), Catherine Zeta-Jones (Dr. Victoria Siebert), Channing Tatum (Martin Taylor), Vinessa Shaw (Dierdre Banks) and Ann Dowd (Martin's mother). Open Road Films. 1 hour 55 minutes.