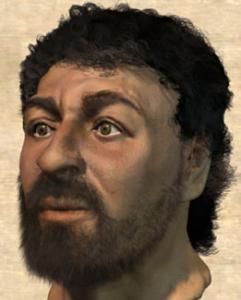 On an intellectual level, God is marvelously hard to know. On the same level New Testament scholars have had a hard time getting to know and agree on facts about the historical Jesus. Even so, of the two, God and Jesus, getting to know Jesus is much easier. Unfortunately, when Christians say "Jesus is God," it seems to say, "We know God first, and Jesus is that."
Love and the sufferings and joys of one's own life are keys to accurately understanding another. For Christians that  applies to Jesus as well. Such knowledge of Jesus is one safe guide to understanding God. But intellectual questions also arise, and in a modern age may be quite puzzling. When that happens Catholics and other Christians have found it necessary to take historical Jesus scholarship seriously. What can historians confidently say about Jesus' life in first-century Palestine? How does what they learn affirm, influence, or change our understanding of God?
First in a series of posts that I call "Stories of Jesus and the Character of God." In this series I probe what historical Jesus scholars can say about the humanness and the earthly career of Jesus—beyond which historical research cannot go. The ultimate objective is to let this Jesus reveal the character of God. Contents and links to other entries in the series here.
N. T. Wright tells a story that happened often in his days as the prof who conducted welcoming interviews with new students at Worcester College. A student professes not to believe in God. The professor asks the student to talk about this god that you don't believe in. After listening to the student, Wright responds, "I don't believe in that God either." Wright believes in the God of Jesus, and I'm guessing the student disbelieved in a concept of a god that Jesus wouldn't have known.
Jesus reveals "the very face of God."
Scottish theologian, T. F. Torrance was an army chaplain, h0lding the hand of a young, dying soldier during World War I. After the war, as a pastor, he was holding the hand of an elderly woman in his congregation. Both asked the same question: "Is God really like Jesus?" He assured them both, "To see the Lord Jesus is to see the very face of God." (from William C. Placher, The Triune God, p. 139)
Seeing the face of Jesus has been difficult and controversial. Historical Jesus scholarship in the last 100 or so years has quit and started over a number of times. It hasn't been easy to get from pre-conceived notions to the life that Jesus actually (probably) led on earth. What that life means for a believer or a non-believer today is equally controversial. Was—or is—Jesus God, or was God acting in some way in him? Historical investigation can't prove that. It's possible that even an eyewitness to the course of Jesus' life might not get the kind of proof that today's believer or skeptic might ask for.
As a Catholic I believe that Jesus is God. I believe that knowing what Jesus was like is the first step on the way to knowing what God is like. For someone who is not Christian it might not be the first step, but it could be a step nevertheless. Even one who does not believe in God, whom we cannot see, can look to Jesus for clues to what the reality we do see is all about.
A look ahead
This first step, knowing Jesus through modern biblical scholarship, shows me that Jesus didn't either look or act much like God. That is, the God as I and many Christians have long imagined. So, was that traditional God hiding in Jesus, or do our ideas about God change in any real encounter with Jesus? I'm going with the latter. That has been the case for me, anyway.
Several themes will take turns at center stage in the course of this series of posts.
Some thoughts about the necessity and the strangeness of looking to history for ultimate meaning.
A look at the infancy stories with which Matthew and Luke begin their Gospels. These stories are introductions to the Gospel writers' main concerns. They set the tone for what comes later. Several posts during the season of Advent take up this theme.
A critical, but not dismissive, look at the miracle stories present throughout the Gospels. The issue of God's power comes into play here. One often thinks of power as a central quality of God, but how central is power to the life of the historical Jesus?
Who did Jesus think he was? If Jesus is God, it seems that his awareness of himself would be a clue to what God is like. Of course, we're not going to enter into Jesus' mind, but his self concept does show up in his words and actions.
Stories of Jesus. This theme tries to find a center that animates the stories the early Church told about Jesus.
The series wrap up with an attempt to say something about the Trinity in the light of what we see in Jesus.
Something borrowed, not much new
I need to mention sources that I rely on. Besides N. T. Wright, Bible scholars Raymond E. Brown and Walter Kasper helped me portray the humanity of Jesus. Hans Urs von Balthasar helped me put the story of Jesus in the context of the Trinity. Contributors to the multi-faith discussion in The Emptying God: A Buddhist-Jewish-Christian Conversation also helped me relate Jesus to the Trinity. Of these I want to mention especially Masao Abe, Buddhist, and David Tracy, Catholic. Of course, I have benefited by a much larger field of scholars.
Image credit: Christianity Disproved  via Google Images