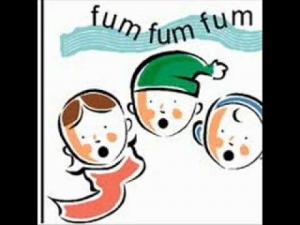 It's the third week in Advent. Christmas is getting closer. A favorite Christmas carol awakens in my brain. It's time to brighten the Advent atmosphere of the home, consisting so far of wreathe and Christmas creche. We'll put some ornaments on the Christmas tree this week. Actually it's three small fake trees that we call our Christmas forest.
It's "Gaudete" week, the week of the rose candle. Gaudete, the Latin word for "rejoice," comes from the traditional Introit for the Third Sunday of advent. We pray "Rejoice in the Lord always," or we sing a similar theme as the Entrance Song.  This week I'm rejoicing by singing Christmas carols and also having some fun with them.
To join in the fun, take this Christmas Carols Quiz. Answers will appear in Wednesday's post.
The Christmas carol quiz
What's so fum about December five and twenty, and what does "fum" mean, anyway?
What exactly is frankincense doing when it owns a deity nigh?
On what day of what month did good King Wenceslas go to St. Agnes Fountain to help a poor family? (Hint:  The answer explains why this song is considered a Christmas carol.)
What do the babel sounds that the blessed angels ever sing o'er sound like?
How can you troll the ancient yuletide carol if you're not fishing or hiding under a bridge?
When the nations prove the glories of God's righteousness, who are the nations; and is that very nice?
What does it mean that Mary is the "mother kind"?
What will happen if you go a-wassailing too long?
Name the computing Christmas carol. (Hint for this question and the next: They both have something to do with the mouse.)
Which Christmas carol is not enjoying computer screen time just now.
Bonus. Where should the comma go? —
God rest you merry gentlemen.
Have fun and gaudete: Rejoice in the Lord always.