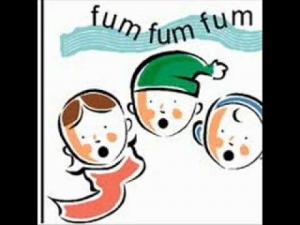 Christmas is a serious as well as a joyful season. You can find both feelings in Christmas carols. Today I'm focusing more on the joy, although there is a serious effort to understand as well. For instance, I've heard a choir director say that the word "fum" in the Christmas carol is just a nonsense word. The first answer clears up that misunderstanding. I hope you enjoy the Christmas carol quiz and also all the blessings of Christmas.
1. What's so fum about December five and twenty, and what does "fum" mean anyway?
Everyone knows what's so fum about December 25, but not everyone knows what "fum" means or even that it means anything.  "Fum, Fum, Fum" is the name of the song, and it's usually called a Catalan carol or maybe Spanish.  A friend of mine from days gone by disagrees, however.  She is from Majorca and insists the song is Majorcan.  She says "fum" in her language means air or sky (related to our word "fume").  The sky is very big, so the word has another meaning — great or wonderful. Makes sense to me.  Of course, I don't have to tell you what's so fum about December five and twenty.
2. What exactly is frankincense doing when it owns a deity nigh?
Maybe, like me once, you thought the frankincense in "We Three Kings" has a divine-like quality. If so, you were misled by the common meaning of "own." But the word has another meaning, which we see in the phrase "own up to."  In an older time it meant something like "take to heart."  Incense acknowledges and proclaims to the world that God is near.
I was at a Christmas Eve service when the deacon starting waving smoke at us from the burning incense, and it hit me: He's not giving us some new grace coming from that incense. He's proclaiming that God is with us now already. It's just like in the stable.  Incense honors the Deity that is nigh.
3. On what day of what month did good King Wenceslas go to St. Agnes Fountain to help a poor family?
The Feast of Steven is the day after Christmas, December 26. Steven is the first martyr.  Except for this little fact "Good King Wenceslas" really says nothing at all about Christmas.  (The first three days after Christmas are all martyrs' feasts, including the feast of the Holy Innocents.)
4. What do the babel sounds that the blessed angels ever sing o'er sound like?
It came upon the midnight clear, that glorious song of old,
From angels bending near the earth to touch their harps of gold:
"Peace on the earth, good will to men from heaven's all-gracious King.
The world in solemn stillness lay to hear the angels sing.

Still through the cloven skies they come, with peaceful wings unfurled,
And still their heavenly music floats o'er all the weary world.
Above its sad and lowly plains, they bend on hovering wing,
And ever o'er its babel sounds, the blessed angels sing.
This is my favorite Christmas carol.  I didn't always understand the second verse.  I used to think the babel sounds were the soft babblings of the babies in Bethlehem accompanying the angel voices above.  But Bethlehem of old is in the first verse.  The second verse is about today.  The babel sounds are the sounds we make when we build our Towers of Babel, all pride and confusion and fighting, clashing with the angel voices above. But …
"Lo, the days are hastening on." And someday the whole world will "send back the song which now the angels sing."
5. How can you troll the ancient yuletide carol if you're not fishing or hiding under a bridge?
OK, I should have asked what "fa la la la la" means.  Of course, "troll" means sing with great joy. It has nothing to do with trolls or anglers, and it isn't the sound of a mournful bell, either.
6. When the nations prove the glories of God's righteousness, who are the nations; and is that very nice?
In Bible times the Jews called everyone who didn't believe in Israel's God "the nations." So how can you prove something that you don't believe in? In "Joy to the World," we're dealing with an older meaning of "prove" – to experience something in a very convincing way. Some people use the word "convicted," and it's the contrast between God's righteousness and our sinfulness that convicts us. This is a far from pleasant note, but it ends up nice. Jesus was able to see something in us worth coming to earth and dying for; and that's one of the
fum.
….wonders of God's love. And that's really
7. Mary is the "mother kind" In "Lo, How a Rose E'er Blooming." What are we saying about Mary? (Choose one.)
Mary's the mothering kind.
She's kind of a mother.
Mary is a mother who is kind.
She's some kind of mother!
That last answer is correct. The word "kind" today can mean something like species or something like benevolent. The first of these is earlier, and when something was called "kind" as an adjective, it meant that this thing was an outstanding example of its kind. In this song "Lo, How a Rose E'er Blooming," we're singing that Mary is the very best of mothers.
8. What will happen if you go a-wassailing too long?
Don't go too long a-wassailing or you will get drunk.  A "Wassail" is a fermented Christmas drink. The kids came up with another answer:  If you go wassailing too long, you'll be grounded.
9. Name the computing Christmas carol. (Hint: Think the mouse.) 
"Up on the Housetop" (click, click, click)
10. Which Christmas carol is not enjoying computer screen time just now? 
'Twas "The Night before Christmas," and all through the house

Not a creature was stirring, not even the mouse.
A question that wasn't in the quiz:
What is the "Trisagion" doing in a children's Christmas Carol?
I was singing "O Come, Little Children" to myself, not expecting there would be anything intellectually puzzling, and came to the phrase "thrice holy night." Suddenly it occurred to me to wonder, Why does the song say "thrice holy"? Immediately I thought of the song of the heavenly choirs "Holy, holy, holy Lord God of hosts." Maybe three holy's just say the night is extra, extra holy. But I decided to Google "thrice holy" anyway and found some interesting things.
There's a very old liturgical prayer called the Thrice Holy, Trisagion in Greek. It's used especially in Eastern churches and has a place in the Latin Church's Good Friday Liturgy. I remember singing it in Catholic grade school and mispronouncing the Greek! –
Holy God,
Holy and strong,
Holy immortal one, have mercy on us.
I also sang it in the seminary with a more complicated Gregorian Chant melody. Today I like both melodies. I wonder if there's a deliberate connection with Good Friday in this children's Christmas song.
There's a strange legend about the hymn. In the 400's Constantinople was shaken by violent earthquakes, and while the people prayed for assistance, a child was thrown up into the air. Everybody shouted "Lord, have mercy," and the child came back down. Then in a loud voice he exhorted people to pray what he had heard angels saying: "Holy God, holy and strong, holy and immortal." After giving this exhortation, the people prayed the new prayer, the earthquakes stopped, and child died!
Bonus question: Where should the comma go?
"God rest ye merry gentlemen."
Here's a merrier note. Obviously, God doesn't give rest to a bunch of merry gentlemen but gives the gentlemen a merry kind of rest.
And God also rest ye merry, esteemed ones, during this Christmas time.