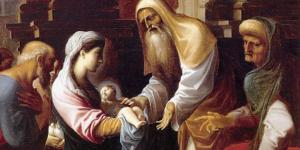 During the Advent and Christmas seasons I have been praying the Joyful Mysteries of the Rosary a little more joyfully than usual. This post is about those mysteries with some thoughts about Scripture. 
History is always a question when I turn to Scripture, but it's pretty far in the back of my mind when praying the Rosary.  I've dealt with the historical question as they relate to the Joyful Mysteries in posts, including here and here.  
Some notes on the five Joyful Mysteries:
First Mystery the Annunciation. Mary questions the angel as did Zachariah. The latter is punished and Mary is not. Tradition explains this by noting a difference between the two questions. But that difference is so small that I doubt Luke had that in mind. Could it be, rather, that the evangelist, or the angel perceived Mary's exceptional favor with God, which we call the Immaculate Conception. Maybe that's why she could get away with a question. … Mary's answer, "Let it be done to me," is the challenge of this mystery.

 

Second Mystery, The Visitation. John the Baptist, baby whom Elizabeth is carrying, is  an important figure in Jesus' life. … Mary's "Magnificat" (below) is my favorite prayer in Scripture. Mary's is a strong voice for social justice.

 

Third Mystery, The Nativity. There is strong symbolism in the humble place Jesu' birth and in the angels and shepherds. … As in the Magnificat, God brings low the mighty and raises high the lowly, even in Luke's (or God's) choice of the City of David and Jesus' first visitors.

 

Fourth and Fifth Mysteries, the Presentation and the Finding in the Temple. Mary and Joseph are true to their Jewish heritage as they present their first born to the Lord. … Jesus is true to his call, his need to be in his Father's house. He surprises us, though, by not staying there. He descends from the Jerusalem heights in humble obedience to Mary and Joseph for the next 18 years. …  In the midst of these Joyful Mysteries, Simeon makes us face the serious and difficult path ahead of Jesus. That path leads through the Luminous to the Sorrowful Mysteries and beyond.

 
Scriptures for the Joyful Mysteries
I recite a passage from Scripture (dividing up the longer ones) after naming a mystery and twice more during the decade that follows. These are the Scriptures I use when praying the Joyful Mysteries:
The Annunciation. Mary answered, "Behold, I am the handmaid of the Lord. May it be done to me according to your word." (Luke 1:38)

 

The Visitation. Mary prayed, "My soul proclaims the greatness of the Lord; my spirit rejoices in God my savior. For he has looked upon his handmaid's lowliness; behold, from now on will all ages call me blessed. The Mighty One has done great things for me, and holy is his name. … His mercy is from age to age to those who fear him. He has shown might with his arm, dispersed the arrogant of mind and heart. He has thrown down the rulers from their thrones but lifted up the lowly. … The hungry he has filled with good things; the rich he has sent away empty. He has helped Israel his servant, remembering his mercy, according to his promise to our fathers, to Abraham and to his descendants forever. Luke 1:46-55)

 

The Nativity. The angels sang, "Glory to God in the highest and on earth peace to those on whom his favor rests." (Luke 2:14)

 

The Presentation. Simeon said to Mary, "Behold, this child is destined for the fall and rise of many in Israel, and to be a sign that will be contradicted (and you yourself a sword will pierce) so that the thoughts of many hearts may be revealed". (Luke 2:34-35)

 

The Finding in the Temple. The boy Jesus said to them, "Why were you looking for me? Did you not know that I must be in my Father's house?" (Luke 2:49)
Image credit: Aleteia, via Google Images