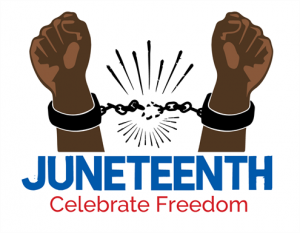 Today is Juneteenth. It was only a few years ago I learned that June 19 is a holiday in most U.S. states. I think it was when I read the prayer for this date in Common Prayer: A Liturgy for Ordinary Radicals. (That's an ecumenical book of daily prayer.) Juneteenth is a celebration of the day in 1865 when the last geographical area in the United States heard the announcement of freedom from slavery. Union General Gordon Granger read President Lincoln's "all slaves are free" proclamation on this date in Galveston Texas. It took over two and a half years for news of the Emancipation Proclamation to travel to Southwest Texas.
Minnesota recognized Juneteenth as a state holiday in 1996, becoming the fourth state to do so. Texas was the first. All but five states have followed in recognizing the day. Juneteenth is still not a national holiday although Congressional resolutions have honored the day. President Barack Obama declared Juneteenth a national day of observance in 2014.
"The Scatter"
The 1865 announcement actually encouraged Texas slaves to stay with their former "owners" and work for wages. What followed, however, even before Granger finished his announcement, was "the scatter." Thousands of blacks left Texas to find family or "more welcoming accommodations in northern regions." That's according to "12 Things You Might Not Know About Juneteenth." The same article tells about the hardships of the freed slaves. Former slavers beat or murdered many blacks trying to leave. One group of slaves found freedom only in 1867 after their "owner" was hanged. He was a horse thief.
In 1968, two months after Martin Luther King was assassinated, the Poor People's Campaign was demanding, protesting, and boycotting for an economic bill of rights. The Campaign brought caravans of poor people of all colors to Washington, D.C. There they constructed a shantytown they called Resurrection City on the National Mall. The Campaign climaxed on June 19, Juneteenth, with a Solidarity Day Rally for Jobs, Peace, and Freedom. "Fifty thousand people joined the 3,000 participants living at Resurrection City." (From "Dr. King's Vision: The Poor People's Campaign of 1967-68")
Juneteenth celebrations
The "12 Things" article concludes:
As the tradition of Juneteenth spread across the U.S., different localities put different spins on celebrations. In southern states, the holiday is traditionally celebrated with oral histories and readings, "red soda water" or strawberry soda, and barbecues. Some states serve up Marcus Garvey salad with red, green, and black beans, in honor of the black nationalist. Rodeos have become part of the tradition in the southwest, while contests, concerts, and parades are a common theme across the country.
Celebrations in Minnesota take place officially in several cities, including the Twin Cities, Mankato, Rochester, and Duluth. Jim Walsh, columnist for the Pioneer Press, says the Twin Cities celebration is "one of the two largest Juneteenth Celebrations in the United States, surpassing even the Texas celebrations."
Image credit: Pyramid Books