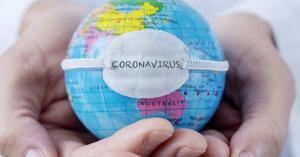 I just added a pandemic prayer, Pope Francis' "Prayer to Mary during Coronavirus Pandemic," to my daily prayer routine. Here is this beautiful prayer, translated by Catholic News Service:
Prayer to Mary during coronavirus pandemic
O Mary,
you always shine on our path
as a sign of salvation and of hope.
We entrust ourselves to you, Health of the Sick,
who at the cross took part in Jesus' pain, keeping your faith firm.
You, Salvation of the Roman People,
know what we need,
and we are sure you will provide
so that, as in Cana of Galilee,
we may return to joy and to feasting
after this time of trial.
Help us, Mother of Divine Love,
to conform to the will of the Father
and to do as we are told by Jesus,
who has taken upon himself our sufferings
and carried our sorrows
to lead us, through the cross,
to the joy of the resurrection. Amen.

Under your protection, we seek refuge, Holy Mother of God. Do not disdain the entreaties of us who are in trial, but deliver us from every danger, O glorious and blessed Virgin.
Pandemic Prayer and politics
There's a reason why I especially need to pray for a quick end to the coronavirus pandemic. In the United States even a health emergency is political. The pandemic threatens to go from horrible to unspeakable. The worse it gets the harder it will be for the country's leader to make his self-adulatory claims believable. Speaking personally and politically, I hope and pray desperately for Donald Trump's removal from office this November.
This situation amounts to a moral hazard for me. By my own natural moral spirit, how can I not rejoice in the present crisis? I need to say Pope Francis' pandemic prayer often.
A few quibbles about the prayer
When I say the prayer, I skip the phrase "Salvation of the Roman People." I guess the word "Roman" is there because the Pope was talking to Italians.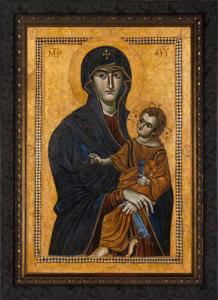 Besides that small point, I'm uncomfortable with calling the Blessed Mother "Salvation." "Salus Populi Romani" is an ancient and approved title for Mary. The Pope translates it "Salvation of the Roman People, but "salus" literally means health. This image is in the Basilica of Saint Mary Major, Rome. Its title is "Salus Populi Romani" or "Protectress and Health of the Roman People." Our word "salvation" is etymologically related to "salus," but in my world salvation is what Jesus, not Mary, does.
I needed to make one other small change to the prayer. The CNS translators made an awful grammar mistake in the final paragraph. Even my word processor knows that it should be "of us who are in trial…." The original had "we" instead of "us."
Image credits: Christian Headlines and Wikipedia