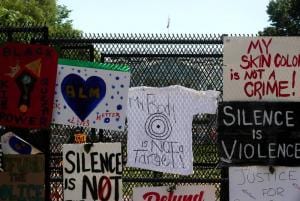 Now everybody knows about Juneteenth because Trump, unwittingly, was about to desecrate that day of remembrance for Black people. That is, until he postponed his political rally by a day. June 19 is the day in 1865 that Black slaves in Texas finally heard about their "Emancipation." (See this post.) It is not a day for a campaign rally by a president for whom Black lives don't matter.
Trump didn't deliberately schedule his rally for Juneteenth. In fact, he says, neither he nor anybody on his staff knew of the holiday until a Black Secret Service agent told him what it was. He went on to say, "I did something good: I made Juneteenth very famous" – which is true. Trump continued, "It's actually an important event, an important time. But nobody had ever heard of it." Did he misspeak a little there? Maybe he meant, "Nobody that matters had ever heard of it"! That's why I need to say:
BLACK LIVES MATTER!
Black lives matter because, as this pastor of a church in Greenville, North Carolina, says, the "point of pain" in this country right now is in the Black community. There is pain everywhere, but a white person's pain is not worse because he or she is white.
"Black Lives Matter," the slogan
In my small circle the saying "Black Lives Matter" has occasioned some controversy. People think that if we say "Black lives matter," we should also say "White lives matter" and "Blue lives matter." Or just put it all together: "All lives matter." It seem so obvious. Why not?
The answer is not that the first of these statements is true and the others are not. "Black lives matter" is not a statement of fact as in "Black lives are among the things that people appreciate." Neither is it statement about someone's values – "Black lives are worthy of respect." When you hear "Black lives matter," you're hearing a desperate plea, a rallying cry, a call to get up and do something. When it's in writing, it's a different literary genre from statements of fact or value. People who insist on supplementing this rallying cry with "All lives matter" are not logically wrong. Of course, all lives matter. But they are rhetorically wrong. They miss the vast difference in function of the two statements. Either that or they miss a simple fact: Whites don't need a rallying cry; Blacks do.
Put another way, we normally don't waste words on something that's so obvious that no one could disagree. I was hiking in Glacier National Park with a baby in a pack on my back. He was just learning the rudiments of language. About a mile into the woods the child pointed excitedly and said, "A tree!" Saying "All lives matter" is about the same as that, except that the person saying it should know a little more about English usage than my grandson at the time.
"Black lives matter" needs to be said. I'm writing this post because I need to say it. And you don't need to reply, "White lives matter, too." There's no call for it.
Image credit: The Guardian