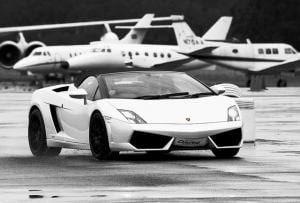 Allow me to gloat.
This week, I'm on an expenses-paid business trip to London, England.
Nice, huh?
Not long ago, I was bitter and angry about my career. I felt that it was stopping me from what I thought I was "purposed to do;" that is, preach the Gospel.
Now, forget for a minute that blessings often come disguised as hard work — even though my work (software engineering) is challenging. What I've learned is that it is what I do as a "secular profession" makes the preaching and teaching (and writing) I do, possible. I had to relearn what it means to "love what I do."
We've all heard the saying, "count your blessings." I'd like to upend that by saying that we shouldn't COUNT our blessings, rather, we should EMBRACE them. Instead of focusing on quantifying, we should simply be in the moment and love them.
Wait a minute, I'm supposed to be gloating. Let me get back to that…
I'm what I like to call a "social media lightning-rod." I say what I think about things and, contrary to popular belief, I actually spend time talking with Papa about what's on my mind. Following my heavenly consultations, I post these thoughts on social media.
Then I get blasted. Seriously.
I don't mind saying that God loves everyone. I don't mind saying that humanity was never separated from God and does not require saving. I don't mind pointing out the hypocrisy of "christians" who stumble over profanity or homosexuality but are comfortable with the police brutality and antics of the reality-show administration with its varied manifestations.
My mantra is that my job isn't to make you think as I do but to make you think, period. I believe thinking is a lost art — largely due to the fact that people confuse thinking with consciousness. More on that in another column. Suffice it to say that — at least these days — that true thinking is only prompted by something that shakes people out of complacency.
Dammit, I still haven't gloated!
I used to get depressed when the "mainstreamers" and "evangelicals" would come after me following my posts. I used to vent to Papa and cry on my wife's shoulder, "Why don't they get it? I'm just talking about love. And I'm trying to liberate them from the bondage of religion"
Then I have a moment like this.
Last night, I was in a pub in London, enjoying a meal and a couple of pints of Camden Hell's English Ale (yep, that's what it's called) with a dear Friend. The night before that, I was in business class on a Boeing 787 dreamliner crossing the Atlantic. The day before that, I was tooling around with the top down in the leather-and-wood lined cocoon of my car. I was laughing and joking with my handsome, intelligent, and athletic sons and enjoying the warm embrace of my smoking-hot wife.
And it dawns on me — while others are railing against me, I'm living my best life. I know what it means to be loved and valued by my Heavenly Father, my Wife, my Sons, my Parents, and my true Friends. I know what it's like to have a career many would dream of. I know the excitement of seeing my words in print — both online and on the printed page.
And suddenly, the castigation and condemnation of those who choose to oppose me doesn't seem important. At all.
Thanks for suffering through my gloat. Now let me share some good news with you…
I'm not special. I'm not "gifted" or "anointed." I've simply learned that I am a son of the Creator of everything and that His wealth and power are at my disposal. I've learned that He has created a universe full of stuff for my enjoyment. I'm learning to embrace my divinity along with my humanity — you know, like Jesus did. I'm learning how to share these revelations with others. I'm enjoying seeing others grow in the understanding of these selfsame things in their lives. And, most of all, I extend an invitation to those who disagree with me to awaken to the freedom that will allow them to experience what I do. What God has allowed me to do, He wants to extend the same to you!
So, lift a toast to your naysayers! God has prepared a table for you in their presence. Just remember to keep a seat open for them. Because that's what love does!