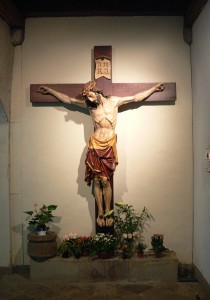 I'm not giving up chocolate or coffee this Lent. I'm not giving up TV or movies, either. In fact, I'm not giving anything up for Lent. Does that surprise you?
On the surface, it might seem like I'm being a bad Catholic and resisting the Church's call to penance during Lent. Here's what the Catechism says about Lent:
The seasons and days of penance in the course of the liturgical year (Lent, and each Friday in memory of the death of the Lord) are intense moments of the Church's penitential practice. These times are particularly appropriate for spiritual exercises, penitential liturgies, pilgrimages as signs of penance, voluntary self-denial such as fasting and almsgiving, and fraternal sharing (charitable and missionary works).(CCC, 1438)
Clearly the Church teaches that Lent is time for fasting, penance, and almsgiving and I'll be following those teachings wholeheartedly. But something Pope Francis said recently deeply touched my heart and made me re-think my idea of Lenten resolutions.
In his morning homily at Casa Santa Marta on February 3, 2015, he encouraged his listeners to spend 10 minutes each day reading the Scripture and then talking to the Lord – not by rattling off prescribed prayers, but in real conversation. He explained how he himself does it, using that day's Gospel reading as an example. That day's reading was about Jesus curing the daughter of Jairus, one of the synagogue officials, and then healing the woman who'd hemorrhaged for twelve years.
"How do I contemplate with today's Gospel?" he said. "I see that Jesus was in the middle of the people, he was surrounded by a large crowd. Five times this passage uses the word 'crowd'. Did Jesus ever rest? This would lead me to think: 'Always with the crowd …'. Most of Jesus' life was on the streets, with the crowd. Did he ever rest? Yes, once, says the Gospel, he was sleeping on the boat but the storm came and the disciples woke him. Jesus was constantly in the midst of the people. And this is how we look at Jesus, contemplate Jesus, imagine Jesus. And so I tell Jesus what comes to my mind to tell him."
Pope Francis also observed that Jesus doesn't only understand the crowd, but he feels the crowd. That's how he knew that the hemorrhaging woman had touched his cloak. Instructing the family to give the newly-risen girl something to eat showed that "Jesus always thinks of the little things."
"What I have just done with this Gospel is a prayer of contemplation: take up the Gospel, read and imagine the scene, imagine what happens and talk to Jesus, from the heart," he explained.
I read the daily Mass readings on most mornings, and I attend daily Mass whenever I can. But, I'm sorry to say that I've rarely done what Pope Francis suggested and spent time contemplating what I'd read or heard. I usually take it in, say a prayer of gratitude, and scurry on with my day.
By the grace of God, that's going to change this Lent.
I think that most of us decide to give up this or that for Lent (sometimes in a last-minute, snap decision) but it takes more time and effort to really assess what we'll do that will help us to grow, to become more Christ-like. At least I know I often do that. The giving up is important, but it defeats the purpose if it's just a Lent thing. Years ago I heard in a homily that whatever we do for Lent should assure that we're not the same person coming out as going in.
Disciplining myself to spend at least 10 minutes each morning contemplating Scripture and conversing with my Lord will be like a penance in the sense that I'll have to be strict with myself and block whatever might lure me away. That's going to take tremendous effort on my part! Then, in the spirit of self-sacrifice, I'll surrender the rest of my day to him and ask what he wills me to do with the rest of my day.
The Catechism confirms this for me:
For this reason the Church, especially during Advent and Lent and above all at the Easter Vigil, re-reads and re-lives the great events of salvation history in the "today" of her liturgy. But this also demands that catechesis help the faithful to open themselves to this spiritual understanding of the economy of salvation as the Church's liturgy reveals it and enables us to live it. (CCC, 1095)
When we re-read the Scriptures, we come to a better understanding of God's plan for our salvation and are better able to live it. That's the goal of any Lenten penance, isn't it? To become better able to live the Gospel? Then each day becomes a type of liturgy in and of itself.
That, for me, will be far more fruitful than simply giving something up for Lent.
Image: Andreas Praefcke, Public Domain, Wikipedia