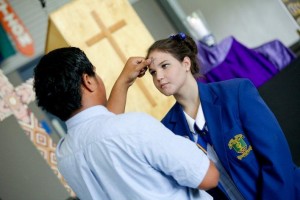 As Ash Wednesday was approaching, I thought a lot about the Chapel Hill shootings. Now that Ash Wednesday is here, I'm thinking about them even more. While it hasn't been definitively determined that the fatal shootings of Deah Shaddy Barakat, 23; Yusor Mohammad, 21; and Razan Mohammad Abu-Salha, 19, by Stephen Craig Hicks was a hate crime, there's evidence that suggests that it was.
My friend and colleague Elizabeth Scalia wrote about this on the blog, "The Anchoress."  She wrote about Hicks, "…supposedly he argued with many neighbors about parking spaces, but let's face it: he killed the religious people.
He killed the people who literally wear their religion on their sleeves (or heads), and that has to count for something. For better or worse, as atheist writer Sincere Kirabo argues, it factors into the equation."
There are other reports that suggest the same. In an interview with the publication, RT, the brother of two of the victims, Yousef Abu-Salha, claims that his siblings were singled out by Hicks because they wore the hijab (headscarf customary to Muslim women).
Here is what he said:"There were plenty of run-ins [with Hicks]," he said, "but the run-ins escalated when my sister moved in; she obviously wore the head scarf. I recall her telling me when she first went to visit the condo before she even moved in together, [Hicks] came and knocked on the door and told them they were making too much noise, and he brandished a gun at his waist."

There's much more to think and write about concerning this case – including the fact that Hicks had 13 firearms in his possession and often brandished one or the other of them when confronting his neighbors, But, the point I want to focus on is that, Hicks had altercations with many of his neighbors, yet killed the ones who openly professed their faith. What's more, claims that the disagreement was over parking space doesn't seem to fit because no one was parked in Hicks' prized parking space on the day he killed his Muslim neighbors.
The question I'm asking myself today is, "What if the two women had not worn their Jilbabs?"
The fact that they did so has caused me to ponder our Catholic custom of wearing ashes on Ash Wednesday. Face it, it's a very obvious mark of our Faith, and we are certain to get some interesting looks when we go out in public. In my younger years, I'd try to pick the priest or deacon who went lightest on the ashes. Sometimes, I'm ashamed to admit, I'd even help them to "lighten up" because I mistakenly felt that wearing my ashes in public was somehow unprofessional.
As the years have gone by, I've gotten braver about demonstrating my Faith in public, and have had a whole range of reactions when I wear my ashes around town, from squints to raised eyebrows, avoidance, surprise, and even in some cases, disdain. I even once had a woman stop and tell me that I had "something" on my forehead. I'm still not sure whether she was poking fun or sincere.
On my part, whenever I see someone in public wearing their ashes, I make it a point to thank them for so openly demonstrating their Faith. They're usually scared when I first approach them; but, once they hear what I have to say, they seem relieved, even delighted. I did one time scare one of my doctors by gasping when he walked in – not out of fear, of course, but out of surprise and admiration. Nevertheless, I believe that kind of show of Faith deserves recognition and encouragement.
So, as I'm ready to head out for my day – including receiving ashes – I'm thinking about the victims of the Chapel Hill shootings. I'm praying that I can be courageous in openly demonstrating my Faith as they were. Yes, I'm taking some risk, perhaps not risky enough to get shot, but risky enough to get some odd looks and weird comments.