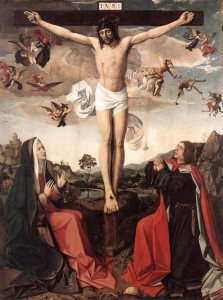 Of all the lines in the Gospel narrations of the Passion, one line grabs my heart more deeply than all the others:
"Father, forgive them, for they know not what they do." (Lk 23:34)
Jesus' words about his murderers as he hung dying on the Cross astound me, and even though we won't hear them in the Good Friday readings this year, I'll be thinking about them and repeating them silently to myself.
Father, forgive them, for they know not what they do.
In my younger years, I would listen to that line and be in awe of our Lord's meekness and mercy. I could see forgiving someone who'd inadvertently harmed you. I could even see forgiving someone who'd purposely hurt you years later – after the pain had subsided and the situation no longer mattered.
But, to forgive someone who was hatefully torturing you while they were torturing you? Wow, what an amazing thing for Jesus to do.
As I matured in my Catholic faith, I began to better understand what Jesus meant when he said, "If anyone wishes to come after Me, he must deny himself, and take up his cross and follow Me." (Mt 16:24)
I, like most of us, initially assumed that Jesus was talking only about bearing our burdens. We so often refer to hardships as crosses that we have to carry. Hardships are crosses and we are asked to carry them with joy in imitation of Christ.
However, there's another way to consider our Lord's instruction to pick up our cross and follow him. Where was he carrying his cross to, and what happened when he got there? The cross he'd been carrying became the instrument of his agony as those who'd placed it on his shoulders viciously crucified him with it.
And during the same time they were killing him, he forgave them.
It wasn't years later. It wasn't after the Resurrection. It was at that very moment. In fact, he forgave them even before they had completed their treachery. 
I don't know exactly when, but at some point in my life I experienced an incredible epiphany about the Crucifixion and this dawned on me – that as a Catholic, I not only should but must forgive as Jesus did. That means forgiving the person who is defaming me before he's even finished his defamation. It means forgiving the insults, lies, false accusations, threats, and contempt before it's even crossed the lips. It means not waiting until years later when the pain has subsided and the situation no longer matters to forgive.
It means forgiving NOW, unconditionally and forever. 
It means forgiving and loving our tormentors as they're pounding the nails into our hands and feet, as they're thrusting the spear into our side, as they're walking away while we're still hanging there, wretching in unbearable pain.
This is what comes to me every Good Friday since that moment of realization that took place long ago. To say that I've realized it isn't the same as being able to do it, though, and so I continue to pray for the grace to say "Father, forgive them, for they know not what they do" whenever someone begins to torture me.
Yes, we're called to carry our crosses as Jesus did, but we're also called to forgive those who are nailing us to them.