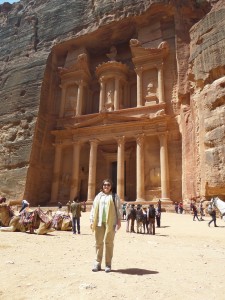 Standing in front of the Petra Treasury. Eat your heart out, Indiana Jones!
There are so many things that fascinate me about Jordan, and I intend to tell you more about them in the coming days. For example, in just the past couple of days we saw the Baptismal site of Jesus and Mount Nebo, where Moses was shown the Promised Land by God and died. We saw the ancient civilization of Petra, the new seventh wonder of the world where Indiana Jones and Raiders of the Lost Ark was filmed. We've look across the land of the Old Testament Edomites and rode on pickup trucks through Wadi Rum, the land of Lawrence of Arabia. We've shared a meal wit Bedouins and just arrived at the Dead Sea for more adventure.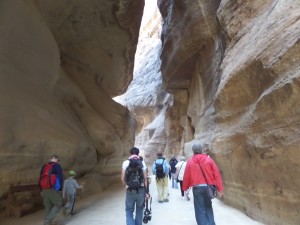 There's much to say about each of the stops in our journey that I could write volumes. And, I will soon. Our days have been long, sometimes grueling, but always filled with excitement and joy at the gifts God is giving all of us on this trip. So, it's been tough to squeeze in a writing session after arriving late at the hotel exhausted. Add to that some technical difficulties, and,, well, you get the idea.
But there are some general impressions that I'd like to share with you now because they will help you get a feel for this amazing country. Here are five of the most fascinating:
1. While old, the Holy Land is at the same time very new. Archeology is an on-going thing here, as there is layer upon layer of history, on atop the other. It's not uncommon to find that, once an important discovery is made, and new one is uncovered right beneath it. Some of the sites, like Bethany beyond the Jordan where Jesus was baptized, were accessible only after peace was achieved between Jordan and Israel in 1994. Before that, it was a mine field.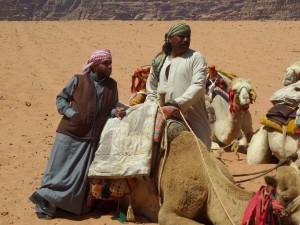 2. Jordanian kids are by far the friendliest kids I've ever come across. They wave, say hello, sometimes start light conversation with you, and always, always a smile. And, it's the real deal, too.
3. Nearly everywhere, the Muslim call to prayer can be heard five times each day. Each time I hear it, I remember the mayor of Amman telling us, that anyone who hears the call to prayer stops and praises God regardless of their religion.
4. Bedouins are everywhere, camped along the roads and up in the hills and mountains. Sometimes the children are playing outside of the tents, or their goats are wandering about. Once in a while, you'll see one or two of their dogs meandering along. I'll write more about Bedouins in another post.
5. Jordanians love their country. There is a national pride here that I've experienced directly from those we've met with during our various excursions, but I also can see it in there faces. I can feel it in the way they greet my group as we make our way around. They are happy to have us visit the country they love.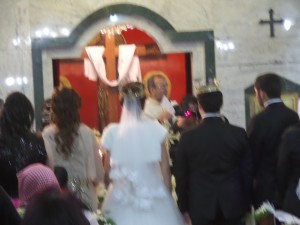 For now, I'll leave you to ponder that as I prepare for another busy and amazing day here in Jordan. Tomorrow we'll visit Mukawir, where John the Baptist was beheaded and then on to Bani Hamida Co-op Weaving Project. In between there I'm sure there'll be some mini-adventures to share with you as well. Stay tuned!