Before you pass judgment on me, let me explain.
I cannot lie (lest I need to go to confession, which might be tricky since priests aren't easy to come by in this predominantly Muslim country). I and my 11 colleagues did indeed barge in on the wedding of perfect strangers.
But, it's not what you think.
We were scheduled to meet with Fr. Boulos Baqaleen at the Melkite Catholic Church of St. Georges in Kerak, Jordan in order to explore what a Jordanian Catholic parish is like. However, some hours before our scheduled visit, Fr. Boulos informed our guide, Raed, over the phone that he was extremely busy that day and would only be able to visit with us for a few minutes.
And we did just that.
When we arrived at St. Georges, we were ever-so warmly welcomed, not only by Fr. Boulos, but also by a group of men of the parish. They scurried us into the church hall (quite small by US standards) and soon our hands were filled with drinks and baked goodies. I must say, I believe I'm developing a taste for Turkish coffee.
But, I digress.
We chatted a bit with Father and the men, and they gave us some insight as to what Catholic parishes are like in Jordan. Christians are the minority and Catholics are the minority of the minority. Parishes are small, having anywhere from 50 to 200 families. The congregation tends to be on the older side, since the young people tend to move to the big cities and sometimes other countries since it's easier to find work there. Once they go to the cities, they often forget about their faith as they become swallowed up by the chaos of city life worldliness. To counter this, St. Georges is raising money to build a youth center adjacent to the church. They're also trying to renovate the dilapidated rectory behind the church.
It's slow going.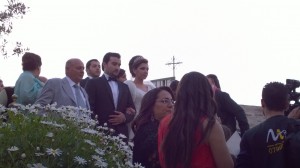 Jordan is not a rich country, made more so by having taken in and caring for thousands upon thousands of refugees from neighboring countries. The parishes are poor, also, so projects like the ones at St. Georges take time and effort. Emphasis on time.
"When we have the money, we build some more. When we don't have the money, we stop building. We go little by little," Fr. Boulos said.
And yet, they never give up.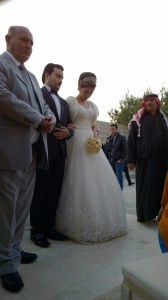 Our tour came to a quick end because Fr. Boulos was to officiate at a wedding taking place at St. Georges in just a little while. The bride and groom both grew up in this parish, and were back to marry there. According to a few of the locals, that doesn't happen often.
We thanked our hosts for their hospitality, but before we could bid them farewell, they insisted that we stay to enjoy the wedding. They assured us (repeatedly) that we were welcome and that the wedding couple and their families would be pleased to have us at the wedding.
They were right.
Everyone – really everyone – was indeed happy at our presence, and we were treated so very warmly as we squeezed into the back pews (in spite of being urged to go sit up at the front). Later, Raed told us that the Jordanian tradition is to invite the entire village to weddings, and it certainly did seem so.
Also according to tradition, members of the groom's family go to get the bride from her home and bring her to the church. That poor groom – he was so nervous waiting for his bride to arrive!
Once at the church, the bride is greeted by her groom and the two process to the church amid singing, clapping, and drums playing. At one point, one of the guests fired a gun into the air, scaring me half to death! It was all part of the absolute joy of everyone present to see this young couple get married.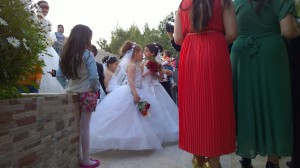 During the Melkite wedding, crowns are placed on the wedding couple's heads, and they follow the priest around and around the altar in procession. That was SO beautiful! What I love most about the Melkite Rite is all the singing during Mass, and this wedding Mass did not disappoint.
Before long, it was time to slip out of the church and move on to the next item on our day's agenda. As we drove along on the bus, Raed explained that, when a Jordanian says you are welcome, you really are welcome.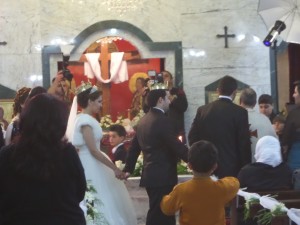 I can testify to that from firsthand experience. I've met folks from many parts of the globe, but I've never met anyone quite like the Jordanians with their humble, sincere, and warm-hearted welcome. Our experience with this wedding was a perfect example.
Yes, we crashed a Jordanian wedding. And thanks be to God that we did.