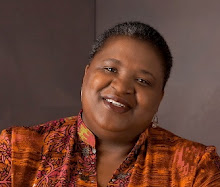 When I first saw her on television I knew that we had nothing in common. As I watched the tattooed woman with the bright colored shell top mourning her son, her peroxide dyed hair: two toned, parted down the middle reminded me of the sisters I would see rolling into Sally's to get the color their girl was going to use in their "kitchen shop" later that night. She was a teenage mother, who raised her child in her mama's house. An "around the way" sister, I knew that she would be one of those chicks that I would say good morning and then try to slyly take a picture of to send to my crew and ask, "why can't our people do better?"
As she screamed at the camera being held by her "husband", I knew that we had nothing in common. Maybe she had gotten married at the Baptist church down the street and had a reception at the community center. She would have been out of place at my "Real Wedding" nuptials that hosted academic and clergy royalty, boasted the services of the finest vendors in the wedding business, including a fashion designer, an award winning baker, and one of Dallas' most sought after floral designers. She probably had her girls, a colorful collection of women who had led hardscrabble lives, had taken more than a few payday loans, and were trying to stay in the hustle by her side. My girls surrounding me on my special day had over 13 educational degrees between the 5 of them, all from ivy league schools. Her guests were a collection of folks that danced to the latest Chris Brown or Young Jeezy jams, while mine were sitting poolside enjoying two fully staffed bars and a live band that played classic R&B.
Though I lived in Missouri for four years, I knew we had nothing in common. Her town was merely a side note on my travels back and forth from Columbia to St. Louis to catch a flight from Lambert Field. I would have had no reason to stop there on my way to a sorority function, because after all, I was headed to University City to grab some Indian or Sushi from that cool place off of Delmar. I never saw her at Nic's Winebar, my favorite place to kick it on a sultry summer night in St. Louis. Then again, I am not sure how comfortable she would have been (though my girl Kel-Kel would extended mass hospitality) sitting around talking about Derrida, the deconstruction of Jill Scott Lyrics, middle class relational angst, or who was flying to Chicago to see our extended wine crew. We were a collection of young professionals—nurses, managers, entrepreneurs, scholars, and poets.
No, I knew me and Michael's mama had nothing in common. Her son attended a school that lost its accreditation. Miserable test scores, a bankrupt school district, many of the kids that went to school with Michael Brown were pawns in a political game of "to transfer or not to transfer." Called the "front line of the national school choice debate" by the Washington Post, the school district educating her child is a forgotten educational war zone where policymakers have consigned poor kids to a third world education while making them watch the rest of the world through a chain linked fence. Children capable of taking AP classes who dream of becoming engineers and firefighters are forced to roam the halls with predators that threaten to jump them if they continue to wear those "white folks" clothes to school or try to talk "proper." Her son attended a school where good students wanted out; bad students dropped out; and the middle just tried to survive the dysfunctionality that permeated too much their lives. No wonder she was proud of the fact he graduated from a school like Normandy. After all, it was a rarity.
As my husband and I dream about the infant son we are adopting, we are debating whether he will go to St. Marks or Jesuit, two of the finest prep schools in Dallas. We fret over the pre-school options: should he go all day to St. Thomas of Aquinas or Highland Park United Methodist's heralded Child Development Program? Will we send him to his godparents in Raleigh to attend science or fencing camp at Duke? Will he go live with his aunt during the summer and attend Vanderbilt's young scholar program? Though there is nothing wrong with vocational education (let's face it when you get right down to it the best HVAC folks can make up to $45/hour) but our son will be faced with a very daunting choice- should I go to one of Daddy's alma maters or Mommy's alma maters or one of the Grandparents' alma maters? Unless he gets a scholarship to play for Nick Saban, I will insist that he attend my place of employment, Southern Methodist University. I will explain that like every other professor's kid at SMU, he is blessed that he will be afforded a top 50 University education as a condition of his mother's employment. Yes, you will go to London study abroad AND Yes, you will double major.
Though we have nothing in common, I wonder if Michael's Mama ever heard her name shortened to "nigger bitch" when she dared to question a decision or invoke her right to be heard. Did she fear being labeled aggressive if she challenged the hypocrisy of a system or decision– because she knew the label was the quickest way to kill her career? I wonder if she ever got mad when walking through the store when the manager had some minimum wage minion followed her as she was trust trying to buy clothes for work? I wonder if she ever had to stretch her hand to catch a door that had just been held open for the cute white girl that had walked in just before her, but became seemingly too heavy to be held when she tried to walk through? I wonder, did her bank ever refuse to deposit her cashier's check from the Royal Bank of Scotland until they talked to her stockbroker to make sure the check was legit? Did they call for her signature card every time she deposited a check over 4 figures, when she was requesting only $30 back in cash?
Did Michael's Mama have that sense of dread like I do when I see police lights behind my car even though I wasn't doing anything wrong except playing my music a little louder through the enclave of Highland Park where I have worked for over 10 years? Did she remember that she needed to keep her hands in plain sight, on top of the steering wheel and only reach for her insurance card and registration AFTER she had announced her intent to do so? Did she fret like I will every time my black boy is not with me or his father? Did she tell him like I will tell my son, that yes, you should be able to wear a hoodie but you won't because it scares white people? Did she remind him, like I will remind my son, that if something goes missing from his friend's house he will be the automatic suspect and presumed guilty until proven innocent? Did she tell him that no matter how nice the people that Mommy knows are that smile and tell him what a great young man he is, they will never ever trust him with their homes, their businesses, or most of all, their daughters? Did Michael's Mama know in the back of her mind, that one mistake, one sudden move, or one cop with a bad day could turn a traffic stop into the worst day of her life?
Maybe me and Michael's Mama might have a lot in common. We are black women who know that our children, regardless of their class, come into this world as an endangered species. If they succeed, they are sociological anomalies. If they fail, they are just another statistic of an ideological system of violence and psychological torture that permeates their schools, churches, media, government, and reproduced by internal discourse that reminds them in the end they are disposable because their very presence threatens the peace of the status quo. Yes, Ms. Leslie, on second thought, we have a lot in common. Damn it.