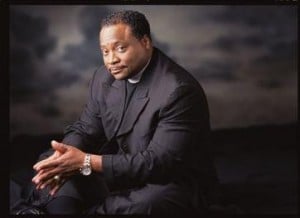 Today, daddy died.
He would laugh to hear me call him that after all these years.
Especially since I swore, I would never, ever, call him that name that he loved so much.
I said at the time, "I refuse to play into Eddie's "daddy" complex."
But today, daddy is dead.
Ours was a complicated relationship.
In 1991, when other Black Baptist preachers refused to allow a woman anywhere near their pulpit, Eddie's Senior Associate Pastor was a woman. She was the first woman I ever heard preach. It changed my life, and it changed what I believe was possible. It opened my heart to Christ, and it opened my ears to hear my call to ministry.
Way before the days of limos, security details, bad toupees, and muscle shirts, Eddie's ministry was fresh, and it was compelling when compared to "traditional" Missionary Baptist ministries.He actively encouraged Biblical education for the laity; recognized the need for mental health for African Americans, and believed in an active relationship between the civic and religious.
I was among the young professionals entranced by this fellow business school grad who appeared to understand my problems with my parents' kind of religion and could preach a word that addressed my concerns as an upwardly mobile African American living in the richest zip code in Dekalb County. New Birth was where like minded 2nd generation Affirmative Action babies basked in their Clintonian wealth, their advanced degrees, and walked in their Bally pumps and wanted to know what to do now that we had overcome. New Birth's Ministry was so young and hip that most young Atlantan's called it "Club New Birth." Soon we grew from 400 to 1,000 to 5,000 to 10,000.
By the mid-1990's I had made it inside the inner circle. I was the t-ball coach for not only Eddie's son but the entire ministerial staff. I was the "armor bearer" for the head of women's ministry. I planned the women's retreats, sat in the 3rd row during service, and occasionally got to hang out with the VIPs. During these days, I found Eddie funny, self-effacing and quiet. We talked about North Carolina, Greek life, and why baby Jared just couldn't get that glove on the ground. Our conversations could be silly or serious. When I decided to go to Emory for seminary, we joked that it seemed that I would never do what was expected of me (New Birth was an Interdenominational Theological Center church). I always responded that he just needed to get used to it. We both laughed. It was one of the last times we would ever laugh together.
But after his Senior Associate, Sherry Gaither left to start a ministry with her husband Ben, Eddie changed. He was sullen. He and the Gaithers were like the three amigos and built New Birth together. But there was a split, and there was an abandonment. I will always argue that this was when left unchallenged, Eddie became simply, "The Bishop."
The Bishop started preaching sermons that instead of lifting women up argued for their subordination The Bishop adopted an extremely patriarchal hermeneutic that was as dangerous as it was unbiblical. The Bishop surrounded himself with young men who wanted to be him but dared not challenge him. He surrounded himself with women who were willing to be in the background, never daring to tread on the ground cultivated by Sherry.
Soon after the homophobic ranting began. No longer content to be silent and armed with my second-year seminary theology, I dared to share with Eddie the danger in his "new revelation." As my spiritual leader, a man whose preaching style, I realized that I was emulating, I thought I had it "like that" with him. A dutiful daughter was just pointing out her spiritual father's flaws. I thought, in the end, I would be embraced. I was wrong. I was shut out and shut up. No more financial support for seminary. No more t-ball. No more invitations to sit at the table or lead women's ministry. When I left, it wasn't even acknowledged.
Through the toupee, the muscle shirts, and the political foolishness over the last 19 years, I never forgot the man of those early days who clearly communed with the Holy Spirit- the one who could preach great sermons that even 25 years later could convict its listeners. I never forgot the man who laughed at the fact that God would trust old 'slew-footed" Eddie Lee Long to minister to God's people. No matter how angry I became at the homophobe and sexist Bishop, I still hoped Eddie would return. When the scandals broke, chairs were lifted, and rumors floated, I still prayed for him. I knew he was struggling with demons that he refused to deal with in private. Even when exposed on CNN, I prayed for him and that God would having stripped him of the 'fake' image would return him to useful service.
Even when I visited Atlanta two weeks ago, across the table, I asked my family almost in a whisper, "How is Eddie?" The pictures were frightening. I didn't recognize him, oh but that voice was the same. The bravado, the defiance, the Bishop was still in charge.
This morning, just 45 minutes before I got up to preach, I got a text that Eddie had died. I could not shed tears, but I did write this on Facebook:
My relationship with Eddie was complex. We fought. We laughed. Those who know me know the hurt I feel this morning as I rise to preach this morning. When guided by the Spirit he was magnificent. He was flawed. He was called. But this day he is at rest.
Today, many of my brothers and sisters of the LGBT community are reveling at his passing. I understand why. The Bishop's words were deadly and belied a complexity that we only speculate in their origin, but we can never be unsure of their consequences. No, I am not so nostalgic that I can overlook the pain he caused with his outright sexist and homophobic rhetoric. But in my quietest moments, I knew that he was in pain and people in pain..well they hurt people. It took me 15 years and thousands of dollars in therapy to forgive him but I am glad I got there.
Today, Bishop died.
Sadly, Eddie died many years ago.
But now maybe, they will both rest from their struggles.