As part of the launch of Marketplace Faith, I'm sharing some reflections on my faith and work history. These posts reveal aspects of the "why" that drives the writing of this blog.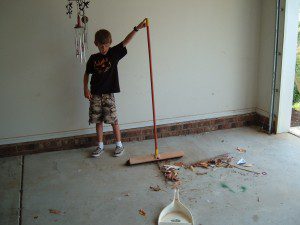 Work as four-letter word: My youngest memories of work come from household chores. Work was the task you completed so you could get to do what you wanted to do. You can go out to play after you "clear the table," "clean your room," or "sweep the garage." Work was also that mysterious place that took dad out of the house all day. Work was essentially a negative, a four-letter word. Though I didn't know it at the time, work was also something positive.
As a young boy I spent most of my time building forts, creating artwork, and rearranging my room. I wouldn't have called these activities work because engaging in them was voluntary and enjoyable. "Work" was the term for what I considered forced household labor. Creating, building, and organizing, they fit into the "fun" category. Though my earliest impressions of what I considered work tilted negative, my father's job provided another lens on the subject.
Work as serious good: My dad was proud to call himself a scientist and an engineer. He was proud of his education. He loved his work. My brother and I were invited to visit him at work from time to time. Sometimes he would bring us in for extended periods and we'd tour the lab and look through microscopes. It was a magical world, this place dad called work. Dad worked hard, but rarely missed family time because of excessive hours or travel. He talked about work with great seriousness–particularly as the steel company where he was employed weathered the ups and downs of the emerging global economy. Even with security and people challenges, he was grateful for his work and spoke positively about it to anyone who would listen.
Work as the key to life.
By the time I was in high school a shift had occurred. Finding the right work was my top priority. Work was both your identity—the means by which you told the world who you are. And work was the way you earned an income—a significant income was essential for happiness. At the time, it was clear to me that work was the key to a good life.
And so at one time or another I considered and/or pursued medicine, professional music, owning my own business, and the MBA track. I had journeyed from thinking of work as a burden from which to escape, to seeing work as the most important pursuit in one's life.
I've been employed in some sort of work for over thirty years now. I've lectured at colleges and run a contracting company. I've interacted with all sorts of skilled workers, tradesmen, service providers, and professionals of every kind. And it still seems work falls on a continuum between curse and the very key to life, from something to be endured, to the essential path by which we achieve all we aspire. Faith has helped me navigate these pendulum swings to the extremes. (More details in next week's post.)
How About You? For now: How about you? What is your family history with work? How do you tend to see work: a four-letter word, the key to your life, or a third option?
________
Photo: From Rubbermaid, "Shanon Sweeping"  https://www.flickr.com/photos/rubbermaid/2667129325.  No modifications.  license info:  https://creativecommons.org/licenses/by/2.0/  extended info:  https://creativecommons.org/licenses/by/2.0/legalcode