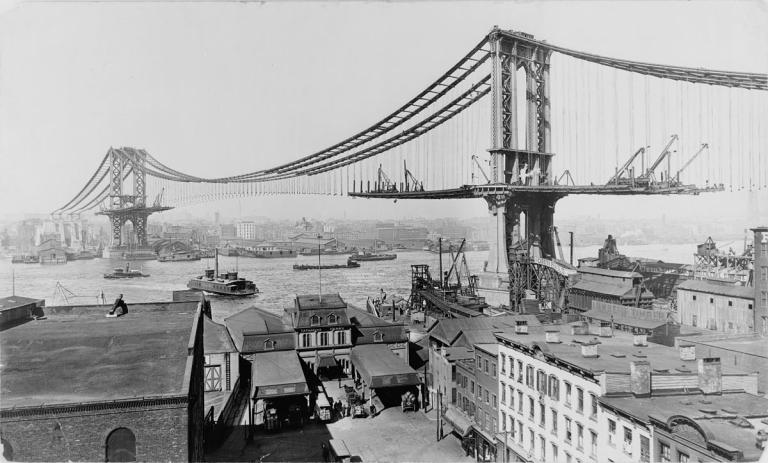 The above picture is of the Manhattan Bridge under construction, the 3rd suspension bridge connecting Brooklyn and Manhattan by spanning the East River. It was completed in 1901 and continues to carry cars, subway trains, cyclists and pedestrians.   Like all bridges, the Manhattan is a pathway across a divide. In this post, bridge building is our metaphor for crossing the gap between our faith and work.
In my last post (click here) , I explored 8 historical and cultural factors that drive faith and work apart. In this post, I move to the solution side.  We build a bridge across the vocational divide through three simultaneous adjustments.
Adjustment 1: Changed thinking.
Our thoughts and beliefs about the place of work in God's world need to change. Chances are they are twisted by all the forces that drive faith and work apart. God's biblical story can infuse us with fresh truth on the place and significance of our daily work.
Do not conform to the pattern of this world, but be transformed by the renewing of your mind. Then you will be able to test and approve what God's will is. (Romans 12:2)
Adjustment 2: Changed Rhythms.
Life is lived in daily, weekly, and seasonal rhythms. Spiritual life is an organic process, it thrives when we feed it in the patterns of our lives and it dies of starvation when neglected.   Cultivating God-ward rhythms in the flow of your work-week helps span the divide.
Jesus said: "I am the vine; you are the branches. If you remain in me and I in you, you will bear much fruit; apart from me you can do nothing. (John 15:5)
Adjustment 3: Changed System
The vocational divide is not simply centered on how individuals approach their work.  Systems and institutions reinforce the faith-work separation manifested on the job.   The disconnect between local church culture and work realities is a systemic force that feeds the divides.  But when church and workplace leaders can build redemptive relationships together, they build a bridge across the divide.
These two verses, move each side to move toward each other.
To the elders (pastors) among you, I appeal as a fellow elder…Be shepherds of God's flock that is under your care (1 Peter 5:1-2)
 Have confidence in your leaders and submit to their authority, because they keep watch over you as those who must give an account. Do this so that their work will be a joy, not a burden, for that would be of no benefit to you (Hebrews 13:17)
A Trifecta to Bridge the Divide
The confluence of these three changes—thinking, rhythms, and systems—are required to bridge the divide between faith and work. Upcoming posts will deal with each in turn and in more detail.  As you consider the categories, which one do you think is your strongest? Your weakest? Which raises the most questions for you?
Faith and Work Resources: I keep a current and curated list of great resources related to the faith and work conversation follow this link: Resources on Faith and Work  
About the Author:  Dr. Chip Roper writes Marketplace Faith from New York City, where he is the director of Marketplace Engagement at the New York City Leadership Center. You can learn more about him here. Chip is available for speaking, consulting, and speaking engagements. Inquire via email: croper@nycleadership.com.
Like US on Facebook: https://www.facebook.comMarketplaceInitiative/
Pic: By Irving Underhill – This image is available from the United States Library of Congress's Prints and Photographs division under the digital ID cph.3c00104.This tag does not indicate the copyright status of the attached work. A normal copyright tag is still required.