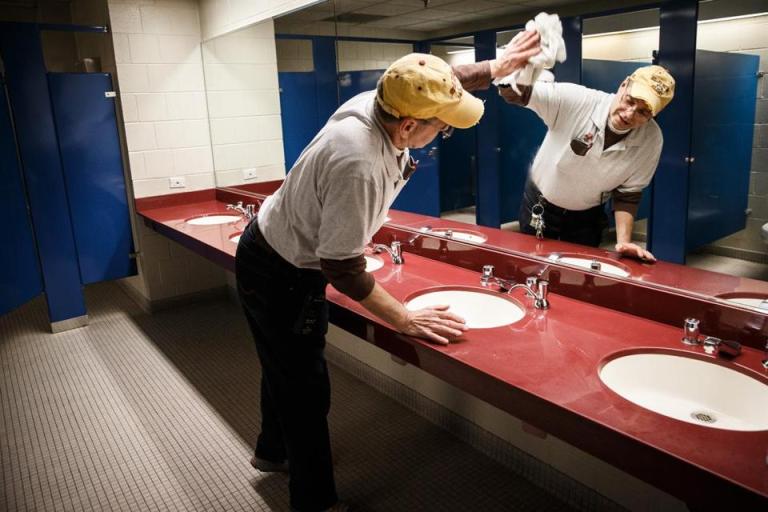 For those questioning the greatness of the American spirit right now, Fred Vautour's story reminds us of the hardwork and sacrifice that our nation is built upon.
Fred has five children, and each of child wanted to go to one of the most expensive universities in the country – Boston College. Like most Americans, Fred did not have the means to pay the $66,000 tuition per student per year.
But determined to give his children the education they desired, Fred humbled himself and found a way to fulfill his children's dreams of attending Boston College.
Fred Vautour put all five of his children through private college – and it only cost him $3,000 per child per year.

That's because for 15 years, the 62-year-old Waltham, Massachusetts, man has worked the graveyard shift as a janitor at Boston College – the same school each of his children attended. […]

Vautour left his job in restaurant management to work as a chef at Boston College in 1994. He soon learned that as an employee of the college, he would be able to send his children to study there tuition-free (as long as they were accepted). This brought his family's costs, which included room and board, down from $66,000 per year to just $3,000 as each child was also awarded scholarships.
And Fred's hard work didn't just pay for his children's education, it inspired them to work hard and achieve excellence:
Vautour, who began working at 14 years old and did not attend college himself, says it was the thought of his kids earning college degrees that kept him going as he mopped, vacuumed and swept the university's Robsham Theater night after night. The fact of their father's hard work – and the promise of free tuition – kept his kids working their hardest, too.

"When I started working at BC my oldest daughter was 13 or 14," Vautour tells PEOPLE. "She decided she wanted to go to school there and that pushed her. She really studied as hard as she could."
Fathers like this give me faith in the fabric of our nation. When Washington elites and paid political pundits dominate the airwaves, it's easy to get disillusioned and forget just how great our country is. But it's the spirit in Fred Vantour that won the American Revolution, defeated the Nazis, and truly makes this nation exceptional.
It's men and women like Fred Vantour that remind us of just how special our nation and its people truly are.