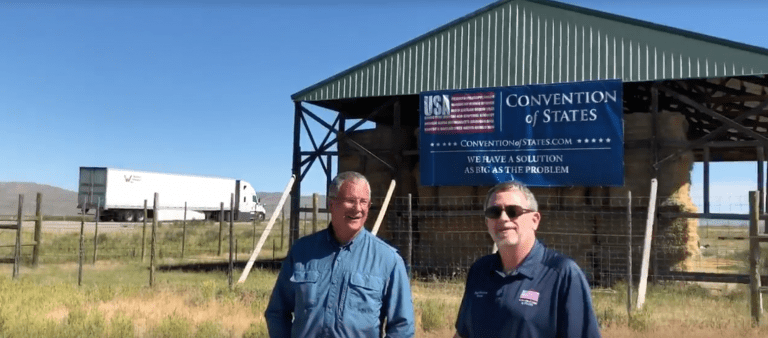 Every day thousands of travelers along Highway 30, along which the ranch of James Buckley is conveniently nestled.
"We're twelve miles south of Cokeville, Wyoming," explained Buckley of Cokeville, Wyoming to Convention of States Regional Director Paul Hodson. "We own a little ranch, it's more like a 'hobby farm.'"
He went on to explain that other ranches in the area are much bigger, but he and his family enjoy living on that ranch, because it's "quiet and away from people." He explained that the ranch is situated right off Highway 30, and 5,000 to 6,000 people drive by every day.
He decided to use this strategic location to help his fellow Americans to learn about the Convention of States project. He explained that he got interested in the Article V effort after watching this video by Jim DeMint produced by Prager U.
Article V of the U.S. Constitution gives states the power to call a Convention of States to propose amendments. It takes 34 states to call the convention and 38 to ratify any amendments that are proposed. Our convention would only allow the states to discuss amendments that, "limit the power and jurisdiction of the federal government, impose fiscal restraints, and place term limits on federal officials."
After seeing the Prager video a couple of times, he went to the ConventionofStates.com website, and signed up. Using that strategic location, he decided to put up a Convention of States banner, in order to raise awareness of the organization. And it's big. Really big.
In the video, you can see a tractor trailer rolling by on the highway, driven by a person who definitely would've noticed the gigantic banner.
These are the types of Americans — patriotic and creative — who make this nation amazing. James's determination to rein in the federal government really shows the "power of the people." And I love it that he's bringing this "constitutional hope" to America… one trucker at a time.
Hat Tip: Convention of States