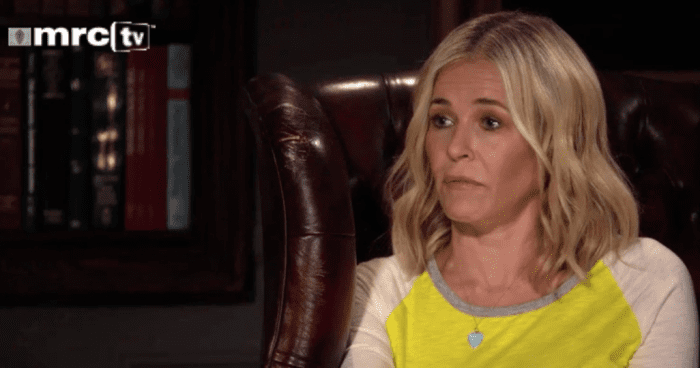 Well, here's another example of just how loving the Left is toward women.  Chelsea Handler, who apparently has a show, recently attacked White House Press Secretary Sarah Huckabee Sanders.
"When somebody from the Trump White House stands at the lectern and tells us that black is white—" former Bill Clinton attorney Lanny Davis begins during Episode 1 of a show she apparently has.
Chelsea, however, won't let him finish.  She interrupted him by ranting, "That harlot that they are dressing up and trolloping out every day? I mean, one day she has no makeup on at all, the next she's got 6' long eyelashes, cleavage, and summer whore lipstick all over her face. Can you believe what they've turned her into? A proper trollop."
What is a "trollop?"  A woman perceived as sexually disreputable or promiscuous.  What is a "proper trollop?"  That's anyone's guess.
Anyway, the left has a pretty strange way of relating to conservative women, don't they?  They will go on so-called "Slut Walks" to make sure that no one ever shames anyone ever for their sexual behavior ever, like never.  Then, three seconds later, they are actually the ones bullying women for being perceived as sexual.
(Important clarification: they are the ones bullying conservative women for being perceived as sexual.)
Which, by the way, is a baseless assertion apparently stemming from Sanders' makeup choices.  Gee, it's almost as if Handler believes heavy makeup can make a woman look like a slut.  That is very anti-feminist, there, Chelsea — especially since Sanders is in such a high-ranking position of power in the White House.  Does feminism NOT support women in power, or does your version simply like to critique the modesty of professional women?
It's particularly ironic when you consider Handler's long, emotional, virtue-signaling Facebook post after President Donald Trump was elected.  "Like so many across the country, the past presidential election and the countless events that have unfolded since have galvanized me. From the national level down to the grassroots, it's clear our decisions at the ballot box next year will mark a defining moment for our nation." She also said, she was going to spend "as much time as I can to becoming a more knowledgeable and engaged citizen," to get more women in office, and to "understand the political divide."
Understand it?
Chelsea, congratulations or something.  You don't have to spend more time understanding our political divide.  Now, you are creating it.
Watch the clip below:
Image Credit: Screen Cap