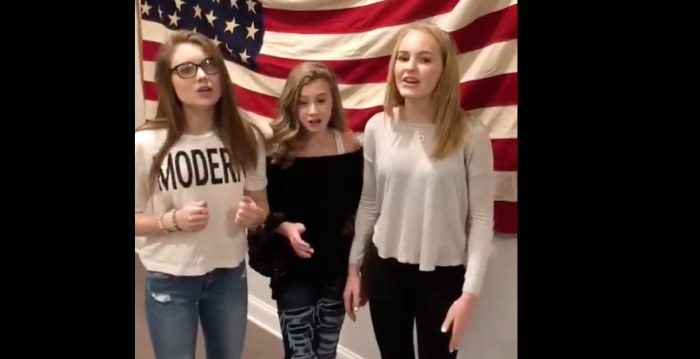 When you need goodness, believe it or not…it's there.  Right on Facebook, too!
Listen to this amazing rendition of our national anthem and tell me it doesn't give you chill bumps.
We can all complain about the trolls, the politics, and the outright hate, but it's all good when you get to see and listen to young ladies like this doing an amazing a cappella rendition of the National Anthem.  The girls' trio hails from Nashville, Tennessee — naturally — and their Facebook page says they "love to sing and share their passion with others."  The group, called gx3, consists of Anna Beth Shults, Darby Cappillino, and Ellie Barnett.
And if this doesn't bring tears to your eyes, then perhaps you just don't love this nation like I do. 
Or maybe it's just because I'm a softie… I don't know. 
Either way, I highly recommend you check out this video.  Don't be the last…it already had 5.4 million views when I saw it.  Yes, 5.4 million.  In an era where NFL players are "taking the knee" and disrespect of our nation seems at an all-time high, the nation is desperate for some good ole fashioned respect.
Way to go, girls. It is an awe inspiring rendition. That's not easy to do to a song that so many people have heard so many times before.  Those girls have some masterful control of their voices at such a young age.
But even more impressive than your love of singing is your love of country.
God bless America.
Image Credit: Facebook