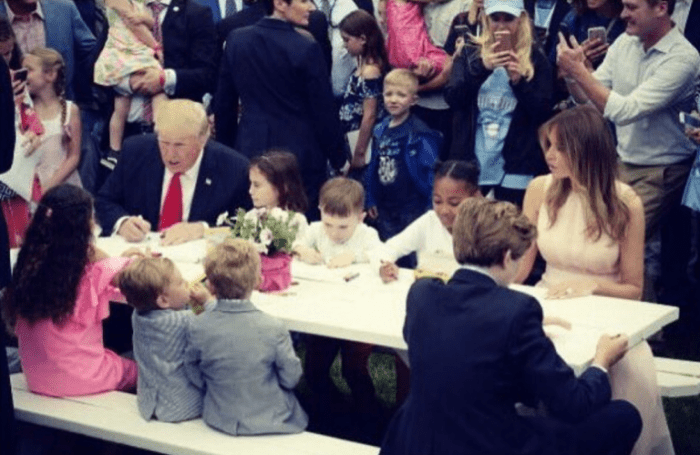 Do you think the main stream media has any sense at all of how they are being perceived? 
On Monday, President Donald Trump greeted children waiting on the South Lawn for the 140th  White House Easter Egg Roll.  The festivities included a reading area, a card-making station for U.S. military members serving overseas, egg decorating (naturally), and the traditional egg roll.  (That involves using wooden spoons to roll the eggs down a hill.) President Rutherford B. Hayes started this tradition in 1878 and it draws in families from all over America.  The children are selected by lottery, and fun is usually had by all.
But not CNN's chief White House correspondent Jim Acosta, who was determined to use the occasion to find out the truth about DACA.  Over the weekend, the President had tweeted that the DACA deal was not going to happen.  The Daily Caller has the scoop on what happened at the Easter Egg Roll:
While Trump sat at the table, CNN's White House correspondent Jim Acosta began yelling at him.

"What about the DACA kids?" he shouted at POUTS. "Should they worry about what's going to happen to them?"
Totally inappropriate moment to bring it up, but the media can't let one second pass without politicizing it.
Trump responded, saying "The Democrats have clearly let them down." Then Trump turned back to coloring at the table with his son, wife and other young children.

Acosta persisted, repeating "Didn't you kill DACA? Didn't you kill DACA?" at the president's back.
The President seemed rather unperturbed by this, and simply kept coloring.  Good for him. Maybe one day, these media types are going to come to their senses and realize that their anger over Trump is making them deranged.  But in the meantime, I'll settle for making sure Americans know it.
Watch the video below:
Here's Jim Acosta yelling at Trump about DACA while the president colors with Barron, Melania & children gathered at the White House pic.twitter.com/JCPsaREe8A

— Benny (@bennyjohnson) April 2, 2018
Image Credit: By White House [Public domain], via Wikimedia Commons
Hat Tip: Daily Caller