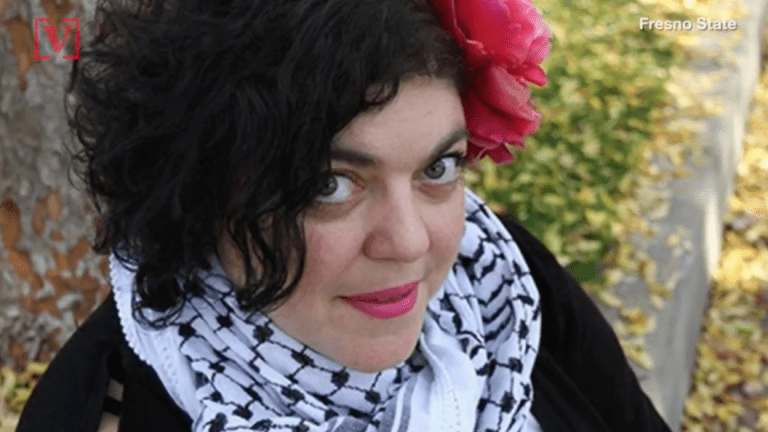 This person is paid over $100K per year to teach our kids.
Fresno State's website  says that "Professor Randa Jarrar is an award-winning novelist, short story writer, essayist, and translator" and is the "executive director of RAWI, the Radius of Arab American Writers."
But she's also an incredibly selfish and cruel human being.  After the death of former First Lady Barbara Bush, she mocked the grieving family:
"Barbara Bush was a generous and smart and amazing racist who, along with her husband, raised a war criminal. F**k outta here with your nice words."
Then, this:
"PSA: either you are against these pieces of shit and their genocidal ways or you're part of the problem. that's actually how simple this is. I'm happy the witch is dead. can't wait for the rest of her family to fall to their demise the way 1.5 million iraqis have. byyyeeeeeeee."
Then, she followed that up with this:
"All the hate I'm getting ALMOST made me forget how happy I am that George W Bush is probably really sad right now."
After getting all sorts of bad press for her tweets, people began looking more closely at her Twitter feed. Guess what? Her acidic attitude wasn't reserved for just Republican people burying beloved family members.  She also hates white women, white men, and Jews.
Here are a series of other charming tweets from the Muslim who supports Palestine:
"I can't wait for the old white guard of literary writers and 'critics' to die. Their time is f**king up, too."

"Coming up: a bunch of f**king white women."

"f**k outta here with your white feminism. I said don't at me b**ch. I'm a professor…"

"We are sooooo much cooler than Israelis, don't at me b**ch."
Then, she posted a phone number — telling people it was her number, if they had complaints against her. You can imagine that many, many people had complaints with her.  Turns out, however, that this number was not her personal phone number.  Instead, she had posted a phone number meant for people who have mental health issues.  In other words, she probably thought she was being really cute conflating reasonable Americans (who believe mocking the mourning is not ideal) with the mentally unwell.
But, as another Twitter user pointed out, this was actually a potential hazard:
"Now she's posting mental health hotlines and creating a massive potential calling issue for a service some may really need. This is horrible. @randajarrar needs help @Fresno_State she is now potentially hurting services students needs."
Of course, this professor cares more about her press and her own perceived cleverness than she cares about anyone else.  I've said it before and I'll say it again: one of the best things about free speech is you can easily tell who the bad guys are.
Sending your kids to universities and allowing people like Jarrar to teach them is a form of parental irresponsibility.  Unless of course, you look at her photo and read what she says, and think, "That woman expresses what I want my kids learning." 
If that's the case, have at it.  You and I have nothing in common.  Political disagreements come and go, but basic human decency should be the foundation of all discourse.
Watch the video below:
Hat Tip: Daily Wire
Image Credit: Screen Cap from video embedded at VDT.com