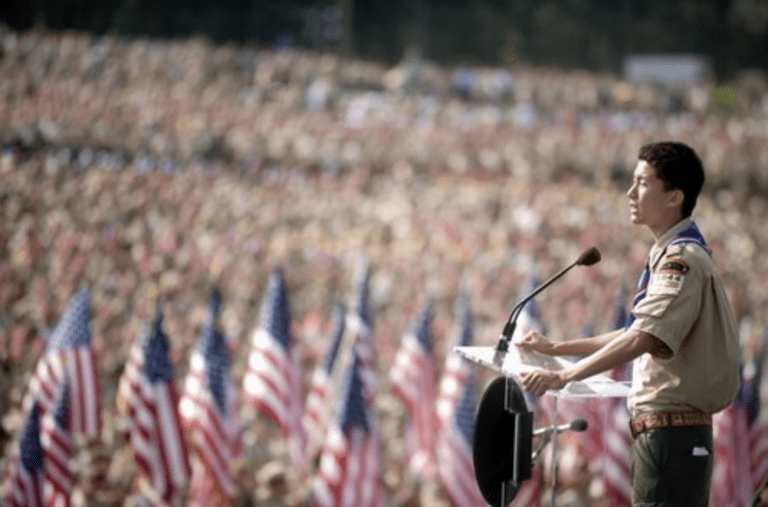 The Boy Scout organization announced it would drop the word "Boy" from its name now that gender no longer matters in its membership process. Last year, they decided to allow girls admission into the 108 year old organization. I guess it stands to reason that they'd further suck the life out of the Girl Scouts by changing the name and making it official.
This is a sad time for America. The Hill reports:
The parent organization will continue being called Boy Scouts of America, even though the scouting group's name is changing.

Chief Scout Executive Mike Surbaugh said the association considered many other "incredibly fun" names before settling on a decision, according to the AP.

"We wanted to land on something that evokes the past but also conveys the inclusive nature of the program going forward," Surbaugh said. "We're trying to find the right way to say we're here for both young men and young women."
I wish I knew what some of those "fun" new names were. I wonder if one of them was "Making the Girl Scouts Obsolete?" Or was it "How to Sacrifice a Good Thing to the gods of Identity Politics?" This move, of course, completely ignores the fact that little girls and boys never really wanted to mix much. (Trust me, it will come soon enough.) To prove my point, check out these photos from the Little Rascals:
Even The Little Rascals got it!
' No Girls Allowed' #BoyScouts pic.twitter.com/sbQZW38y1d

— Jillian (@Jillibean557) May 3, 2018
Of course, that show would never be allowed to air these days.
Boys are in trouble in this country, and the loss of this institution doesn't help.
From primary education to college, boys and men are doing worse than girls and women. The number of women attending college and even graduate programs far outstrips the number of men. Men and boys are facing a crisis in America, and the left intends to deepen that crisis by pretending that it doesn't exist.
Here are some good takes on Twitter:
Masculinity is now "toxic" & a "mental illness." The #BoyScouts of America is dropping 'Boys' frm name. This is the culture war we face. The goal of the left is to convert men into weak, feckless, cupcakes. We just survived 8 years of one in the White House. Not cool. #tcot #ccot pic.twitter.com/DdCaJeNZ04

— Allen West (@AllenWest) May 2, 2018
R.I.P. Boy Scouts, 1910-2018.

Yet another institution has come under siege by Political Correctness.

Liberalism is slowly decaying everything that was once good in our society.#maga #BoyScouts

— Lucian B. Wintrich (@lucianwintrich) May 3, 2018
We're doing our best to raise a generation of boys who will not be able to defend themselves, their families, or their country.

Good job @boyscouts.

— Joe Walsh (@WalshFreedom) May 2, 2018
As an Eagle Scout, I'm really disappointed in the latest in a string of bad decisions on the part of BSA in recent years. My wife and I have four sons, ages 3-10. They haven't joined Boy Scouts, and they never will.

The Boy Scouts aren't what they used to be. And that's too bad.

— John Jansen (@johnjansen) May 2, 2018
Hat Tip: The Hill
Image Credit: The two millionth Eagle Scout Anthony Thomas addresses an audience of more than 45,000 during the Boy Scouts of America 2010 National Scout Jamboree on Fort AP Hill, Va., July 28, 2010. DoD photo by Cherie Cullen