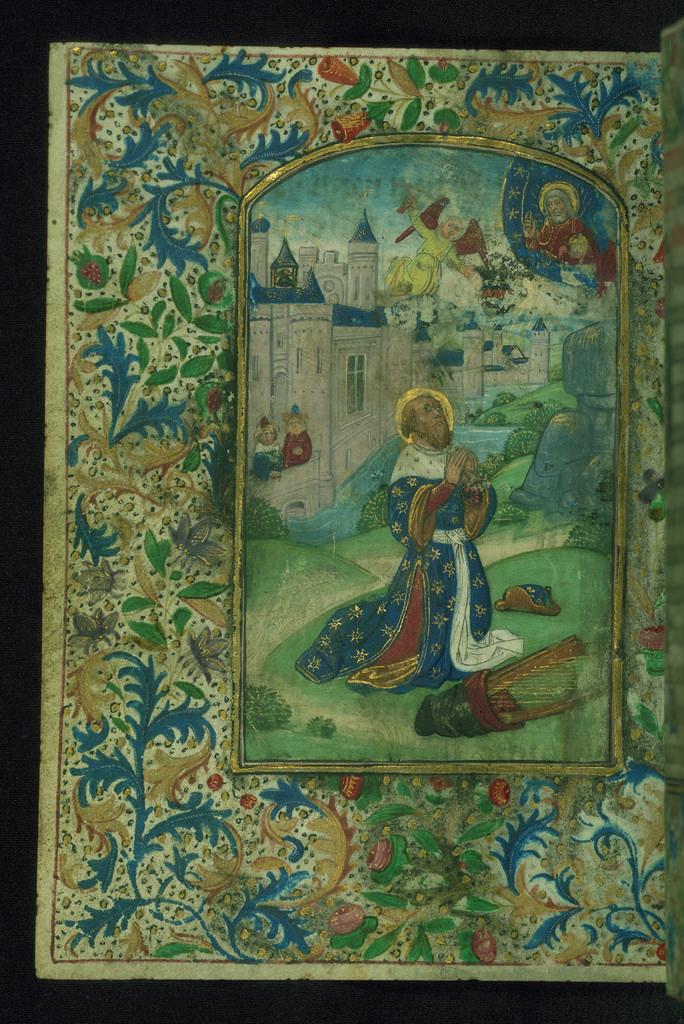 Have mercy on me, O God,
according to your merciful love;
according to your abundant mercy blot out my transgressions.
Wash me thoroughly from my iniquity,
and cleanse me from my sin!

For I know my transgressions,
and my sin is ever before me.
Against you, you only, have I sinned,
and done that which is evil in your sight,

so that you are justified in your sentence
and blameless in your judgment.
Behold, I was brought forth in iniquity,
and in sin did my mother conceive me.

Behold, you desire truth in the inward being;
therefore teach me wisdom in my secret heart.
Purge me with hyssop, and I shall be clean;
wash me, and I shall be whiter than snow.
Make me hear joy and gladness;
let the bones which you have broken rejoice.
Hide your face from my sins,
and blot out all my iniquities.

Create in me a clean heart, O God,
and put a new and right spirit within me.
Cast me not away from your presence,
and take not your holy Spirit from me.
Restore to me the joy of your salvation,
and uphold me with a willing spirit.

Then I will teach transgressors your ways,
and sinners will return to you.
Deliver me from bloodguilt, O God,
O God of my salvation,
and my tongue will sing aloud of your deliverance.

O Lord, open my lips,
and my mouth shall show forth your praise.
For you take no delight in sacrifice;
were I to give a burnt offering, you would not be pleased.
The sacrifice acceptable to God is a broken spirit;
a broken and contrite heart, O God, you will not despise.

Do good to Zion in your good pleasure;
rebuild the walls of Jerusalem,
then will you delight in right sacrifices,
in burnt offerings and whole burnt offerings;
then bulls will be offered on your altar. (Ps 51:1–19).
I've always loved this psalm because David is penitent about real sin. He has not committed some scrupulous sin of thought or word.  He hasn't violated some ritual purity code about some culturally specific taboo against eating pork or not saying some shibboleth.  He is not being publicly modest about something that is not a big deal, but which will win him street cred as a Great and Humble Man.
Nope.  He's guilty as hell of screwing another man's wife because he was king and felt like doing it. He is a man who then, also because he was a powerful bully who totally abused his power, took that betrayed man–one of his most loyal troops and one whose sandals he was not worthy to untie–and murdered him in cold blood by an even deeper act of betrayal so cold that it takes your breath away.  He ordered one of his generals to put the cuckolded Uriah the Hittite on the front line and then pull all his fellow soldiers back, leaving him to die at the hands of the enemy.  In short, David was not only an adulterer and murderer, he was a gutless coward who used his power to force other men into becoming accomplices to the murder and coverup he lacked the courage to commit himself.
I can scarcely conceive of a lower crime than David's, nor could Israel.  Yet it is the prayer begging for mercy for this despicable sin that becomes the greatest sign of hope for the sinner in the psalter.  If God can forgive this, what can't he forgive?
It is notable and telling about the moral clarity of the Jewish people that both the story of David's sin and this psalm are carefully preserved in Scripture in an unvarnished manner.  There is no scribal Kellyanne Conway to cover this story in bullshit.  We hear exactly what David did in all its disgusting ugliness and we see Israel then carefully preserve this psalm, not for David's sake, but for the sake of every Israelite (and in the providence of God, every sinner) who will live thereafter.
Paul tells us of the Old Testament scriptures, "Now these things happened to them as a warning, but they were written down for our instruction, upon whom the end of the ages has come." (1 Co 10:11). In other words, the story of David and the mercy he found is for us.  There is no sin God is unwilling to forgive if we will only ask for his mercy.  Today, make this psalm your own.