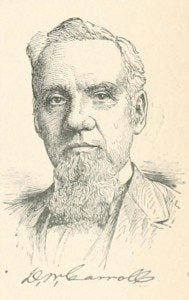 Carroll, David Williamson, chancery judge, was born in Baltimore,  Md., March 11, 1816, the third child and oldest son of William and Henrietta Carroll. His mother was a daughter of David Williamson, a leading Baltimore merchant. Judge Carroll is a lineal descendant of Daniel Carroll, who emigrated from Ireland to the American colonies in 1700, and settled at Upper Marlboro, Prince George County, Md.

His son, Daniel Carroll, the great-grandfather of Judge Carroll, was a delegate from Maryland to the convention at Philadelphia which framed the constitution of the United States, and his name so appears on the record. Judge Carroll is also the great-grandnephew of the Rt. Rev. John Carroll, the first Catholic bishop of Baltimore and the American colonies. He is thus descended from a long line of distinguished ancestors, who figured prominently in the history of this country, both in colonial and revolutionary times, and have ever since continued to maintain a
high and honorable standing as American citizens. Judge Carroll's boyhood was spent in and about Baltimore, where he received a liberal education in the schools of that city, and a collegiate course in St. Mary's College, Baltimore, a Catholic institution of learning in that city, now no longer in existence. In 1836, at the age of twenty, he cast his fortune in the then far Southwest, and settled at Little Rock, Ark., then
on the borders of civilization, the same year that Arkansas emerged from a territorial form of government, and assumed the functions of statehood. He was employed for several years as a deputy clerk in the U.S. Circuit Court for Arkansas, and located at Little Rock.
On Feb. 11, 1838, he married Melanie Scull, daughter of Hewes Scull, a merchant and an old citizen of Arkansas. In 1846 he began the study of law, was admitted to the bar in 1847, and at once began the practice of his profession at Little  Rock. In 1850 he was elected to the legislature. In 1860 he was elected prosecuting attorney for the tenth judicial district of the state, in which capacity he served until the first year of the Civil War. Being of southern nativity and heritage, he naturally sided with the South. Early in 1862 he raised a regiment, the 18
th
Arkansas infantry, became its colonel, and was in active service until August 1862, when he resigned its commission, after a long and protracted illness, which rendered him unfit for field duty. In 1864 he was elected to the lower house of the Confederate congress, and was a member of that body when the Confederate armies surrendered. At the close of the war he turned to the practice of his profession, at Pine Bluff, Ark. In 1866 he was elected judge of Jefferson county, and served until removed by military authority during the reconstruction period. He then engaged in the practice of his profession with success and profit, but being disfranchised by act of Congress, he neither voted nor held office until after the proclamation of amnesty was issued by President Andrew Johnson.  In 1878 Judge Carroll was elected chancellor of Pulaski chancery court, being then a state office, and filled by the vote of the people of the state at large. To this position he was re-elected every two years until 1886, when, by legislative enactment, the first chancery district was formed, and power conferred upon the governor of the state to fill the bench by appointment. So admirably had Judge Carroll filled the position for eight years, which, when completed, will have given him an unbroken record of sixteen years as chancery judge. He has always a faithful adherent of the Roman Catholic Church, and a communicant in one
church for more than fifty years. He has witnessed progress and growth of Arkansas from her earliest statehood, and his life has been intertwined with the vicissitudes of her entire state history. Always faithful to every trust, industrious and earnest in the cause of his clients, careful and honest in the dispensation of chancery justice, a true and patriotic citizen, and proud example of rectitude and piety in the daily walks of life, Judge Carroll lives in the high respect and warm esteem of his fellow men.
National Cyclopaedia of American Biography (New York: James B. White, 1904), 113-114.
115-116.