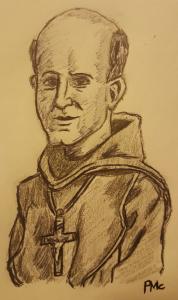 Pain can be healed. Hate can be turned to love. Division can be turned to unity. The Church can and will be one. — The Franciscan Friars of the Atonement
For over a century in upstate New York, the Franciscan Friars and Sisters of the Atonement have helped the disadvantaged while also promoting Christian unity. As we celebrate the Church Unity Octave this week, which they instituted, it's a good opportunity to take a look at the community and its co-founders, Mother Lurana White (1870-1935) and Father Paul Francis Wattson (1863-1940). Someday both of them may be saints on the Franciscan calendar.  
Father Paul was born Lewis Wattson on Maryland's Eastern Shore, the son of an Episcopal priest once suspected of "Romish" tendencies. Lewis followed his father into the ministry; in 1885 he was ordained for the Episcopal Diocese of New York. During the decade he spent as Rector of St. John's Church in Kingston, upstate he became interested  both in the life of St. Francis of Assisi as well as the cause of Christian unity.
One Scripture passage that struck Lewis was Romans 5:11: "And not only so, but we also joy in God, through Our Lord Jesus Christ, by whom we have now received the atonement." (Atonement is a theological term now usually translated as "reconciliation.") He was also influenced by Jesus' prayer in John 17:21, "that all may be one."
Unity is a very Franciscan notion, leading men and women to be at one with each other, God, and creation– "at-one-ment." Father Lewis dedicated himself to healing the wounds of a broken Church: "How could the world believe the Gospels if the followers of Christ were divided in Roman Catholics, Orthodox, Anglican and Protestant splinters?"  He asked: "Is then Church unity a visionary dream? Will the prayer of the Son of God never be answered?"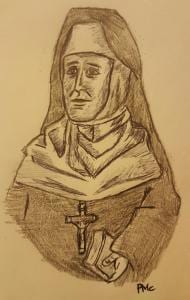 In 1895, Father Lewis joined a monastic group in Nebraska. During this period, he heard from Lurana Mary White of Warwick, New York, who was looking for a Episcopal community with corporate poverty. There was none at the time. So in October 1898, the two formed the Society of the Atonement in Garrison, New York, at an abandoned church site called Graymoor. Some called them "ecclesiastical squatters." Others labeled them "Romanizers."
Through his magazine, The Lamp, Father Paul Francis (he took the name in 1898) promoted Christian unity. In January 1909, he started the Church Unity Octave, an eight-day-period of prayer for this intention. By then, the Society's members had begun to have doubts about the validity of Anglican claims.
It's important to keep in mind that in 1896, Pope Leo XIII had issued Apostolicae Curae, which declared the Anglican Church's holy orders "absolutely null and utterly void." One Church historian notes  that it "really set many Anglicans on their head." On October 30, 1909, all seventeen members of the Society of the Atonement were received into the Roman Catholic Church, an unprecedented event. (Some called them "the seceding community at Graymoor.") One can only imagine how wrenching a decision for Father Paul, Mother Lurana, and their associates decision to leave a tradition they loved so much.
Besides their unity work, the community also served homeless men who came to them for help. Father Paul called them "Brothers Christopher," i.e., Christ-bearers. For over a century, St.Christopher's Inn has helped men get back on their feet. An early visitor commented: "One of the things that touched me was the way they treat everyone to the same fare– there is no difference for the tramps or us." One biographer writes:
Father Paul demanded that every man have a place of respect in the human community at Graymoor. Every man should feel needed. No man should think he was a burden, an outcast, an inmate of some insensitive institution.
On their website, the Atonement Friars link the two apostolates together:
The Franciscan Friars of the Atonement recognize the pain of living in a broken world. We see these wounds within ourselves, in our relationships, in our Church and even between different faiths. Inspired by St. Francis of Assisi, Fr. Paul Wattson, SA, Servant of God, founded the Franciscan Friars of the Atonement to walk as brothers alongside those who are lost and need God's healing.
Father Paul and Mother Lurana had a compassion for each person's brokenness. It continues today at St. Christopher's Inn, where recovery— physical, emotional and spiritual– takes place every day. One friar comments: "We try to reach out to the broken, the alienated, the hurting, those that have hurt themselves, and bring some kind of healing." One resident adds: "This is peace, right here."
(*The drawings of Father Paul and Mother Lurana are by Pat McNamara.)