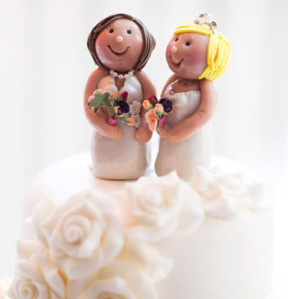 [Guest-post from fellow Virginia UMC pastor Jason Micheli: please check out his blog Tamed Cynic!]
Trolling the news, two separate but related stories have stuck in my theological craw of late.
Two stories that strike me as adventures in missing the plot. The Gospel plot.
First, there is this now infamous flare-up that pits bible-believing bakers against same-sex couples who wish to purchase some sugary carbs to celebrate their recently-recognized nuptials.
The case involves Melissa and Aaron Klein, bakers at the Sweet Cakes shop in Oregon.
When called by a lesbian couple who wished to place a wedding cake order, Aaron Klein reportedly informed the callers that they were 'abominations to the Lord' and refused to serve them.
Klein says he only "apologized for wasting their time and said we don't do same-sex marriages…" In true propagandist style, the Christian Post assumes Klein's version of the encounter while implying the opposite for Klein's would-be customers.
What's the issue at the heart of the matter? According to Klein, the dispute comes down to 'religious freedom' guaranteed by the Constitution. Says Klein: "This is ridiculous that we cannot practice our faith."
For those scoring at home, at stake is the 1st Amendment (not the Gospel) and the freedom to discriminate against homosexuals (sinners, in this view) is part and parcel with 'practicing the Christian faith.'
Okay, next story:
Mark Tooley, head of the Institute on Religion and Democracy, has this editorial, in which he excoriates Gov. Chris Christie, a previously reliable conservative, for voting in affirmation of New Jersey's recent ban on 'reparative therapy.'
In case you don't know, reparative therapy is the practice by which quack Christian psychologists 'convert' homosexuals to the straight if not the narrow.
Reparative therapy is evidence that fundamentalists' pseudo-science harms more than just the environment.
According to a consensus of mental health professionals that goes all the way back to the days when Sigmund Freud was snorting coke, Reparative Therapy is neither 'reparative' for a patient's life nor is it experienced as 'therapy.' And I had a friend whose experience with RT bears out the many stats.
Tooley in DC, like the Kleins out in Oregon, distills this issue in NJ to an issue of 'religious freedom.'
As in the baker's kitchen so in the psychologist's office, it comes down to the 1st amendment. Giving it an unintended Tea Party hue, Russell Moore of the Southern Baptist Convention admits: "This really isn't about reparative therapy, but about religious liberty and personal freedom."
Upping the rhetorical ante, the article ends with the sort of unnecessary alarm that then justifies all means: "The New Jersey law is an assault on not just religious freedom but liberty itself."
Deep breath.
First, the Bakers.
Let's say I grant you that both the biblical narrative and the Christian tradition consider homosexuality a sin, you then must concur that it's nonetheless a tangential concern of scripture.
Even if I let you have your Levitical holiness codes, where homosexuality is filed right alongside crab cakes and clams casino, and if I let you have your misinterpretation of Sodom and Gomorrah and if I give you the Romans 1 bone and concede that yes homosexuality is a sin, then I'm still left With THE MINISTRY OF JESUS.
Jesus, as we pray in the Great Thanksgiving, ate and drank with sinners.
Given human nature, I bet sinners served Jesus wine at the wedding at Cana, straight couple or not. Jesus healed Jairus' daughter, gratis, though Jairus was an enemy invader. Jesus' best story has the 1st century equivalent of a terrorist as the hero. One of Jesus' disciples, whose name graces a Gospel, was a tax collector; that is, Matthew was a colluder with the invading army. Jesus looked at the obviously guilty adultress and refused to condemn her, right before he had a few choice words about stones. At Easter, Jesus appears to the same damn sinners who betrayed him and then he commissions them to baptize the people who killed him.
And don't even get me started on Paul, who made himself all things to all people (use your imagination) and took time to settle disputes about pagan meat, why? Because the Gospel was MORE IMPORTANT.
So whatever they think they're doing, the Kleins are not practicing their faith. Or rather, their faith is in some other than Jesus.
On to the Reparative Therapy issue.
Here's the thing. Nearly everyone except the most strident fundamentalists, including Exodus International which formerly did reparative therapy but now disavows it and recently closed up shop, admit that reparative therapy DOES HARM.
Serious trauma.
Fundamentalists love to cite stats about how homosexuals have a higher incidence of suicide and substance abuse without ever taking the next logical step to suppose that the stigma they attach to homosexuals plays a very strong contributing part.
Reparative therapy is a form of abuse endorsed only by the most extreme who are more concerned to give their particular worldview the guise of scientific backing.
Again, no matter how you might feel about homosexuality, even if I grant you the handful of biblical verses, Christians should all still agree that when it comes to homosexuals persons, whom my relatively conservative denomination describes as having 'sacred worth,' our first pledge should be the doctor's own: do no harm.
What's truly disappointing about the New Jersey law banning reparative therapy isn't the Church's loss of religious freedom, it's that the Church had to be told to stop hurting people in the name of ideology.
Two separate but related stories. In the former, the perceived issue isn't that ours is a God who loves and loves to be around sinners. The issue is the 1st amendment. In the latter, the lament isn't for those many (often youth) victimized by reparative therapy. The lament is instead for religious freedom and personal liberty.
Both of which make me wonder if the homosexual debate reveals that conservative fundamentalists have pledged allegiance not to the Risen Christ and the furthering of his ministry but to America or, more specifically, to their vision of it and their particular political camp within it.
In which case, Christ really is just an idol. Something to which has been attached things that are not of God.