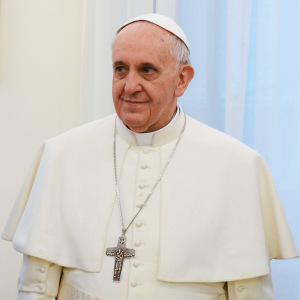 American politicians are eager to use the Catholic church when it comes to certain topics related to sexuality. But what about when the pope calls upon the whole world to fast and pray for peace in Syria, which is what Francis has asked us to do today? Is it just the impotent, ceremonial gesture that the pundits will make it out to be, since Obama knows that his foreign policy legacy will be "toast" if he doesn't make good on his promise to blow up a certain quota of Syrian buildings? Or could the worldwide prayer and fast actually exert the same power that an insignificant Galilean carpenter wielded on a Roman cross 2000 years ago to change the course of history? What will you choose to believe?
Christian journalist Jonathan Merritt shared three Christian perspectives on the Syrian conflict: fundamentalist Southern Baptist Russell Moore representing the "just war" position, Christian neo-monastic Jonathan Wilson-Hartgrove representing "pacifism," and David Gushee representing a "just peacemaking" position. None of these three, including Moore, support the bombing of Syria. Moore writes: "Saving national credibility is important but it does not make a war just. The President must use his bully pulpit to make the case that what he wants to do here is more than a symbol, a symbol that will leave blood and fire in its wake. If I were in Congress, I would vote "no" on this war."
Moore is naming the situation exactly right. The only argument that has been made in favor of bombing Syria by all the pundits is that Obama must save his foreign policy legacy and our national credibility by engaging in a purely symbolic gesture that will kill lots of people and accomplish nothing strategic. It's easy to make that argument from the comfort of your laptop keyboard. I wish that somebody would round up all the pundits and airdrop them into the countries that we bomb ahead of time to test out the precision of our "surgical strikes" in avoiding civilian casualties.
"Well, he said there was a red line and the Syrians have crossed it, so how will anyone believe anything he says from here on out?" "Obama is such an amateur at foreign policy; he needs to prove that he can be a decisive leader." I saw this kind of worldly "wisdom" on display every day when I was teaching public high school and crowds of 16 year old pundits would jeer two kids into fighting to prove their "credibility" and "decisiveness." There is nothing Christian about making decisions that will kill civilians for purely symbolic objectives.
So if the Catholic pope and the person designated by the Southern Baptist Convention as their primary lobbyist and public policy spokesperson are both saying no to bombing Syria, then why is this not a slam dunk? The Republican voting base is made up of mostly Catholics and Southern Baptists who purportedly vote according to their religious values and follow the direction of their religious leaders. The phone lines of House Republicans should be ringing off the hook today.
It would be a shocker that would utterly rattle the American public's presumptions about the character of the Republican Party if a majority of Republicans voted down bombing Syria on account of their loyalty to the church. What? You mean they think about their religion when they're talking about something other than sex? The Democrats only want to bomb Syria because they're afraid the Republicans will call them cowards if they vote no, the irony of course being that this is precisely an expression of their moral cowardice.
The conversation about bombing Syria reveals the bankruptcy of talking about these issues in the abstraction of cyberspace where we have the audacity to use words like "statement" and "reputation" when we're talking about doing something that will cause other people's bones to be disintegrated and internal organs to be splattered onto walls.
"Well, we have to do something!" When people who believe in God are faced with senseless evil and impossibly complex circumstances, the "doing something" that we have available to us is to pray. And when we want to pray deeply, we fast. It's a mystery what praying actually does. I know that a lot of people talk about it flippantly without actually doing it (or at least I know that I have before). It's easy for "I'll pray for you" to become an empty phrase we say that we take about as seriously as "Let's do lunch sometime."
Today is an opportunity to act in a way that would be completely ridiculous if God didn't exist. It is utterly foolish to believe that praying and fasting can do anything to stop crazy dictators from oppressing their people. But it is the kind of foolishness that defines Christianity. And enough praying fools really can change the course of history. So how about you skip lunch today, if you've already had breakfast, and spend that time talking to God about Syria? I don't know exactly what good it will accomplish, but I know that I believe in the power of the One I will be talking to.