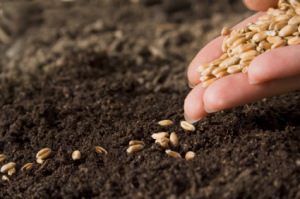 I'm a week behind on sharing my sermon podcast, but it actually seems to go with Reformation Sunday so I'm just going to run with that. Last weekend, I preached on Jeremiah 31, where God says that He will write a new covenant into the hearts of His people. What caught my eye though was several verses before that when God says, "I will sow the house of Judah with the seed of humanity." It's a phrase that seems like it could have two possible meanings. Is God promising to fill an exile-depleted Judah with new human seeds? Or is God sowing the seeds of Judah amidst the seed of humanity? I think both meanings work as we think about the gift of God's New Covenant that is always new amidst a church that is always reforma reformando. Sermon audio here:
I'm not always big on Reformation Sunday. Being a Wesleyan who worships at a Roman Catholic mass most Mondays, I'm a little skeptical about the schismatic DNA of the Reformation, particularly when I think about the sectarianism I witnessed last week with John MacArthur's Strange Fire conference. But my friend Rod Thomas offered a helpful interpretation of Reformation on his facebook page today:
When I think of Reformation Sunday, I don't think of division or chaos. I think of renewal. With every era, the Christian faith demands not "revival" (emotionally driven, culturally hegemonic change) but wholeness and renewal guided by the Holy Spirit, and tested by the Word of God (Jesus+Scripture).
It's a very interesting distinction that Rod makes between revival and renewal. Whatever your vocabulary is, there needs to be a recognition that "revival" is not necessarily a Spirit-guided phenomenon. It can be something that we ourselves try to drive and hegemonize for our own purposes.
I think all cultural movements have a mix of spirit and flesh behind them. In our own nation's history, it's important to recognize that the cultural destabilization which occurred in the Sixties had a legitimate Spirit-breathed aspect to it (civil rights, dignity and justice for all people) in addition to an idolatrous flesh-driven side (drugs, sexual hedonism, etc). Likewise, the backlash against the Sixties during the Reagan era has had both a legitimate Spirit-driven side and an idolatrous flesh-driven side.
In any case, God's new covenant was proclaimed by the prophetic word of Jeremiah 31 and established through the life, death, and resurrection of Jesus Christ, but we have a perpetual need for the new covenant to be resown into our hearts because our flesh finds a way to appropriate and abuse what the Spirit has sown. In verse 28, God says, "Just as I have watched over them to pluck up and break down, to overthrow, destroy, and bring evil, so I will watch over them to build and to plant."
Well, a garden has to be plucked up and broken down in order to be built up and replanted. When we talk about the new covenant in a Jeremiah 31 sense, we are talking about a heart-felt desire to love God and love neighbor that occurs in the believer as an instilled intuition. Absent from the equation is any kind of transactional, tit-for-tat mode of thinking: "If I do this, God will do that for me."
The only way that I can make sense of the new covenant, which evangelicals like me call "justification by faith," is that it amounts to Christ rescuing us from works-righteousness by saying through His cross and resurrection: "I paid the price for your sin so you would stop trying to prove yourself to God and simply live in the freedom and joy that you have been unilaterally forgiven and accepted."
The problem is that we never tire of finding subtle ways to make our justification into something we earn. Look at me, God, I accept all the difficult doctrine that the postmodern people around me struggle with. Are you going to send them to hell and me to heaven? Or at least if you accept them into heaven too, can I glow a little brighter than they do when we're all there together?
The point of Christian doctrine (which is important) is to lead us to the place where we can accept unashamedly God's unconditional acceptance of us (which turns out to be a surprisingly difficult thing to do) and respond with joyful obedience and love of God and our neighbor. It's like Jesus said in the passage I reflected on earlier last week. God has hidden His simple, subtle wisdom from the wise of the world. All Christian wisdom is only worth as much as it enables us to rest completely in Jesus. That is the goal of the new covenant. When we sin, it's not because we're not trying hard enough; it's because we have yet to rest fully in our savior.
All of our works-righteousness and holier-than-thou quests are about as meaningful and beautiful to God as the dead, rotting tomato plants that litter my garden after freezing to death last Wednesday. They need to be ripped out again. It's a cyclical process whose proximity to true Christian holiness is hopefully increasing as we go along. But we need to be plucked up and broken down again so that we can be built up and replanted.
Having cleared our soil of our attempts to establish tit-for-tat old covenants with God, He can sow the new covenant in our midst. Once this has been accomplished, God can sow us together with the seed of humanity so that through our words and deeds, His love can spread to other people who may not know entirely at first who or what is strangely warming their hearts.